'It's not happened in North Korea, it's happened in Kent!': James O'Brien reflects on refugee mural cover-up
7 July 2023, 15:24
James O'Brien delivers a sobering monologue regarding refugee mural cover-up
Backlash has erupted as Immigration Minister, Robert Jenrick, ordered the removal of a cartoon character mural at an asylum centre for unaccompanied children.
James O'Brien stated his outrage at the Immigration Minister's latest order to remove murals at a refugee centre in Kent, exclaiming: "You can't support this, nobody supports this."
Mr Jenrick also ordered the removal of colourful welcome signs, as he wanted to make clear the centre was a "law enforcement environment" and "not a welcome centre".
James continued stating: "You can't possibly think the news is going to filter back to Kabul or Calais that there are no longer any Tom and Jerry cartoons on the wall of the Children's Asylum Processing Centre in Kent.
"Therefore, these two boys, these two children are no longer going to make the journey".
Mimicking the hypothetical reaction of migrants to the news, James stated: "Oh, no, let's not do that anymore, they've taken down the pictures of Mickey Mouse or Tom and Jerry."
Enver Solomon, CEO of the Refugee Council, said Mr Jenrick gave the order as he visited the Kent asylum intake unit earlier this year.
Addressing a Refugee Week event, hosted last week by the Wiener Holocaust Library, Mr Solomon said the pictures were designed to put lone children at ease.
Mr Solomon continued noting an encounter he had with two Afghan boys at the centre who were "absolutely terrified" after a "horrifying journey" to the UK which involved travelling across Europe and then into the UK boarding a small boat to cross the channel.
Read more: 'He has no choice': Keir Starmer backs London mayor Sadiq Khan over controversial Ulez scheme
Read more: Rishi Sunak faces another byelection as ex-minister Chris Pincher set for eight week suspension over groping claims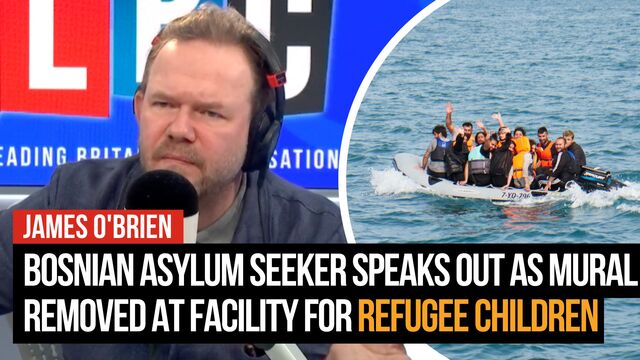 James O'Brien speaks to a Bosnian asylum seeker
Listen to Full Disclosure with James O'Brien on Global Player
Continuing, James provided an alternative scenario to gauge how individuals would respond.
He began saying: "If this was behind the Iron Curtain, or it was an orphanage in communist Bulgaria, and the news filtered out, maybe John Simpson went in and did a report and the news filtered out that this bleak vista where desperate, vulnerable children are more or less confined, had been rendered even less welcoming by a political decision to remove a few cheery cartoons from the walls.
"And I came on the radio the next morning and said 'let's just raise a few quid, shall we, for this Bulgarian orphanage, let's send a few quid to Bulgaria and make sure we get some pictures back up on the walls by teatime, we can do this.'"
Concluding James said: "We would, right?
"Except it's not happening behind the old Iron Curtain or in Kim Jong Un's North Korea.
"It's happened in Kent and it's happened upon the orders of a conservative minister".
The Home Office did not deny the claim, adding it does "all it can" to ensure children are safe and supported while trying to place them with local authorities.