James O'Brien rebukes the Brexiteers now looking for 'compassion' and 'sympathy'
1 March 2023, 13:10 | Updated: 1 March 2023, 14:34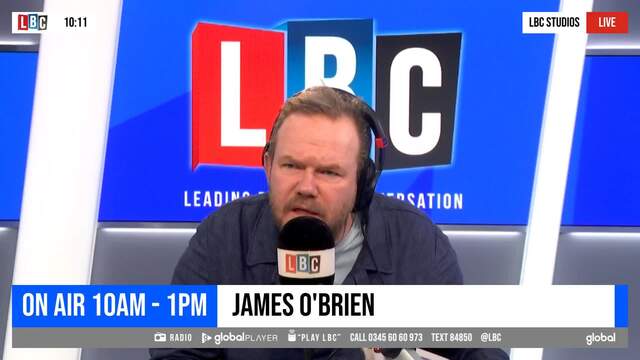 James O'Brien amazed that the Brexit 'con men' are now 'asking for compassion'
James O'Brien had some strong words for the Brexiteers who he says peddled "lies" and "abuse" towards remainers.
James O'Brien shared his annoyance at Northern Ireland Minister Steve Baker and Daily Mail columnist Sarah Vine looking for sympathy surrounding the Brexit fall-out.
Steve Baker said he suffered a "major mental health crisis" as a result of the Brexit fallout, while Sarah Vine wrote that she lost her "dearest" friendships and her marriage.
"You're not going to get liars suddenly repenting of their lies and repudiating the madness they inflicted on the nation", James said.
READ MORE: 'Nothing about Brexit is normal or fair': James O'Brien brands vote leave advocates as 'liars'
He added that people "deserve respect" for their "honesty" when talking publicly about their mental health issues, but "if the struggles with your mental health are born of shame and guilt at what you have done and what you have inflicted, then it serves nobody to turn away from the consequences of the things you feel shameful and guilty about".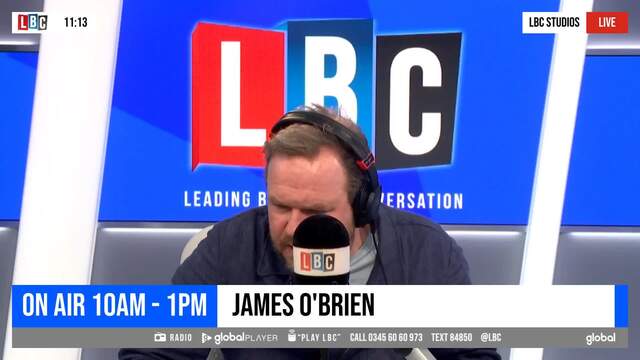 Caller Cathy is 'ashamed' of her Brexit vote
He went on: "It's the closest some of these people are ever going to come to admitting their shame and their guilt to speak about the terrible toll it has taken on them."
James poked at "Brexit hardman Steve", saying he only had "sympathy for himself" in making the comments he did, and described Sarah Vine, Michael Gove's ex-wife, as "a key weapon in the Daily Mail's disgusting arsenal of abuse".
He said the Daily Mail's "depictions of so-called remainers were as dishonest and as deceitful as they were dangerous", adding: "She [Ms Vine] today dedicates an entire page to asking you to feel sorry for her because of what Brexit has done to her life!"
"Imagine marching behind Paul Dacre into the Brexit battle", James said.
"Imagine being one of the key elements of the Daily Mail's attack upon normality and truth under Paul Dacre's dismal editorship."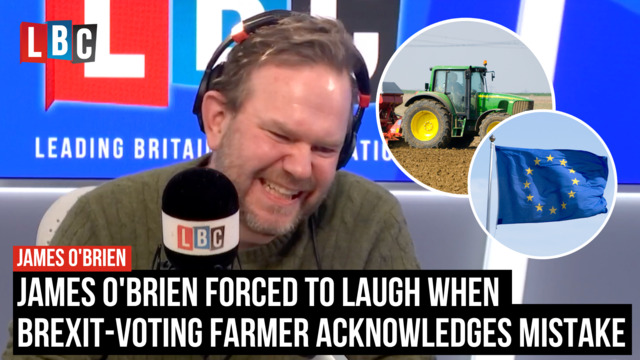 Brexit-voting farmer confesses that European farmers are better off because of the EU
He added that Steve Baker and Sarah Vine were "looking at the carnage of the Brexit that they cheered and championed to the point of unleashing appalling abuse on people dedicated to explaining the truth, and they're now asking for your sympathy, they're asking for your compassion".
"It's actually incredible to me", James said, adding that "one of the maddest moments" of his life involved standing on a stage in Parliament Square, looking at a million people reflecting the catchphrase "contempt for the conmen, compassion for the conned" back to him.
READ MORE: James O'Brien in hysterics as Brexit-voting farmer forced to admit EU is better off
He asked how we make sure the "righteous fury" at what the "true saboteurs have done to our country" is taken in the right direction, telling his listeners not to be "cross" with their mom, uncle or nan, but rather with Jacob Rees-Mogg, Boris Johnson and Sarah Vine.
"What the flip do you do when it's the conmen asking you for your compassion?" he asked.