'It's pathetic!': James O'Brien is staggered by Rishi Sunak's refusal to say if he will approve Partygate report
19 June 2023, 12:22
James O'Brien is staggered by Rishi Sunak not making a clean break with the past
James O'Brien expresses his disappointment with Rishi Sunak's refusal to disclose whether he will approve Partygate, following Good Morning Britain's interview with the Prime Minister.
James O'Brien shared his reaction to Good Morning Britain's interview with Rishi Sunak, as he refuses to say if he will approve Partygate.
The monologue comes as Rishi Sunak is expected to miss a debate over the report that found his predecessor Boris Johnson lied to MPs over Partygate, as Sir Keir Starmer demanded he "show leadership" and vote on it.
James said to listeners: "I think that is rather grim news for those of us hoping he may have exercised the opportunity to make a clean break with the past.
"What would you do if you were Rishi Sunak and what could he do to rise in your estimation?"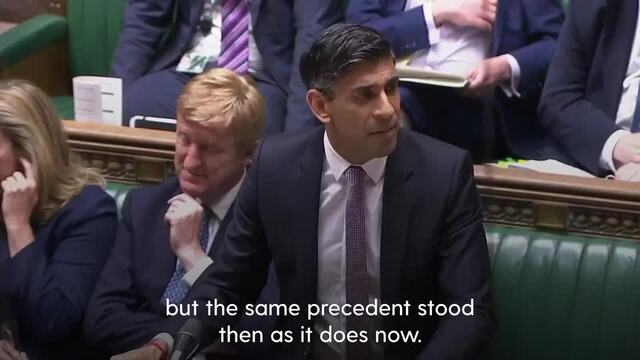 Starmer claims Sunak 'weak' for failing to block Boris Johnson's honours list
The Privileges Committee found that former Prime Minister Mr Johnson knowingly misled parliament five times in his statements about parties in Downing Street that breached COVID rules.
But it is reported that Mr Sunak will skip the vote, leading Labour leader Sir Keir Starmer to call him out.
"We need to know where Rishi Sunak stands on this," he told Good Morning Britain on Monday.
Mr Johnson has always denied deliberately misleading MPs, but quit as an MP on Friday evening after receiving a draft version of the report.
James went on to say: "This grim actually, listening to that. It's pathetic - why won't he grow some?
"Seriously, why won't he grow some and just for once do the decent thing?"
READ MORE: 'Show leadership': Starmer hits out as Sunak 'to skip vote' over banning Boris from Parliament for misleading MPs