Navy veteran deeply hurt by Jeremy Hunt's plans to clamp down on benefit claimants
2 October 2023, 13:15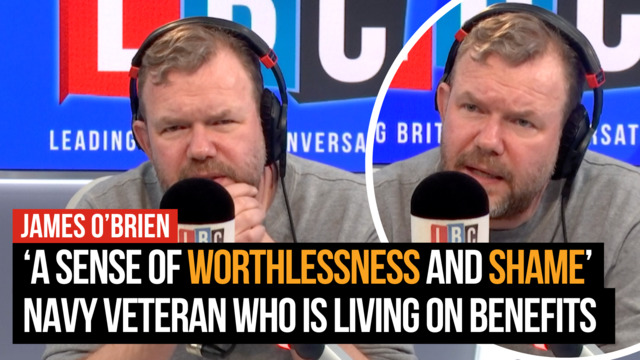 Navy veteran made to feel 'worthless' by Jeremy Hunt's comments
A veteran who was medically discharged from the navy says he feels "worthless" after hearing Chancellor Jeremy Hunt comments on the welfare system.
Speaking to James O'Brien, caller Steven (who is on benefits himself) said he felt a "sense of worthlessness and shame" from pledges made by Jeremy Hunt to increase restrictions foe those who "won't even look for work".
Speaking at the Tory Party conference on Monday morning, Chancellor Jeremy Hunt said he has plans to change the benefits sanction system and restrict those who are not trying to find work from claiming money.
This is part of his government's plan to increase savings on the welfare system. Mr Hunt also plans to increase the living wage from £10.42 an hour to £11 an hour.
Read more: 'No shortcuts on tax cuts' Jeremy Hunt says ahead of speech announcing tougher benefit rules and living wage boost
Read more: Jeremy Hunt admits he flew to Manchester Tory conference from London
The veteran said he has been out of work since being medically discharged in 2014 due to mental health issues such as PTSD.
For those reasons, he has been claiming benefits from the government. He says that the comments made at the Tory Party conference fed "into his sense of shame".
He said: "There is a constant battle...it's like having imposter syndrome, like I am not sick enough to be worthy of benefits."
The caller told James he feels constantly "judged" because his ailment are "invisible".
Responding to Jeremy Hunt claim that 100,000 people leave the work force every year, the veteran said, "as if it's a choice".
"The idea that life on benefits is easy, is completely insane.
"It was a massive pay cut for me, leaving the force and being on benefits. I couldn't maintain mortgage payments on my house so I lost my house."
James then asked the veteran: "Before you became ill, how susceptible were you to the rhetoric that everyone unemployed is living it up on our expense?"
The navy veteran replied: "My father also left the force for mental health problems so I knew the reality of it."
Read more: Sunak set to ignore European judges' Rwanda ruling amid mounting pressure at Tory party conference
Read more: Tory mutiny as backbench MPs demand government cut taxes in 'unprecedented intervention'
Steven told James that he and his father often talk about the lack of support for veterans, which prompted James: "It must be a great comfort for both of you Steven that we do such a great job of 'looking after our own'."