'No shortcuts on tax cuts' Jeremy Hunt says ahead of speech announcing tougher benefit rules and living wage boost
2 October 2023, 08:29 | Updated: 2 October 2023, 08:30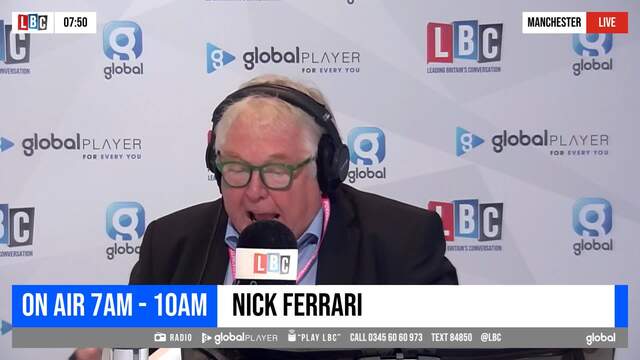 Jeremy Hunt: 'I do want to cut taxes'
Chancellor Jeremy Hunt has warned there are "no shortcuts" when it comes to cutting taxes ahead of a major speech announcing tougher rules on benefits and a boost to the national living wage .
Speaking to LBC's Nick Ferrari at Breakfast from the Conservative Party conference the Chancellor warned there were "no shortcuts" when it comes to slashing taxes.
He told Nick his biggest priority was "to cut taxes on businesses to get growth going in the economy."
Mr Hunt said it would be possible to have "faster growth and get away from ever ratcheting taxes going up and up."
But, he warned, "there are no shortcuts" saying "we have to unleash companies and make it easier for them to grow." Hunt also said taxpayers' money has to be "spent more efficiently."
The Chancellor will address audiences in Manchester later, using his speech to announce "a pay rise for over 2 million workers" in a bid to "make work pay".
The speech will also see Hunt introduce benefits reforms, with Hunt admitting that since the start of the pandemic "things have being going in the wrong direction".
The National Living Wage shakeup will boost the income of the UK's lowest-paid workers in a "new approach" to benefit sanctions.
It will see the current £10.42 an hour raised to £11 an hour from April 2024.
The adjustment would mean the annual earnings of a full-time worker on the National Living Wage will increase by over £1,000 next year.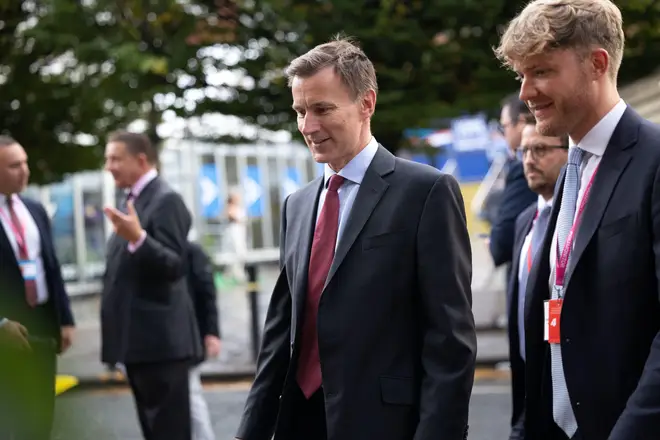 "We are waiting for the Low Pay Commission to confirm its recommendation for next year," Hunt will say, adding: "But I confirm today, whatever that recommendation, we will increase it next year to at least £11 an hour."
He's expected to say that the British economy is proving doubters wrong.
Read more: James Cleverly insists there's a 'universal view' on taxation among Tories - despite Michael Gove's call for tax cuts
Read more: Boris Johnson 'won't be attending' Conservative party conference Rachel Johnson reveals
Compared to France, Germany and Italy, the UK has been the joint fastest growing since Brexit, and the fastest growing since 2010.
He will announce that a full-time worker on the National Living Wage will now be around £9,000 better off than they would have been in 2010 - "because if you work hard a Conservative government will always have your back".
Hunt is also expected to cite how "hard but necessary long-term decisions" made by the Tories ensured the party were able to meet their 2019 manifesto commitment to raise the wages of the lowest paid to two thirds of median earnings.
Where benefits reforms are concerned, Hunt will highlight that "things have being going in the wrong direction" since the pandemic.
"From last year, for the first time ever, you can earn £1,000 a month without paying a penny of tax or national insurance," Hunt will say.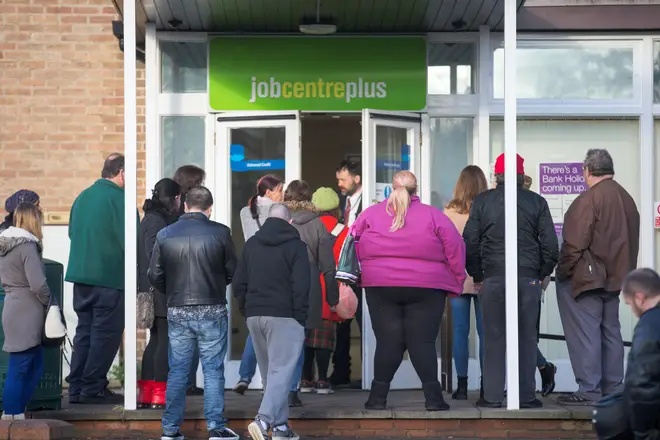 "But paying for that safety net is a social contract that depends on fairness to those in work alongside compassion to those who are not".
Hunt is expected to cite Sir Winston Churchill as part of the announcement, adding: "there's a ladder everyone can climb but also a safety net below which no one falls.
"But since the pandemic, things have being going in the wrong direction. Whilst companies struggle to find workers, around 100,000 people are leaving the labour force every year for a life on benefits.
"As part of that we will look at the way the sanctions regime works. It is a fundamental matter of fairness. Those who won't even look for work do not deserve the same benefits as people trying hard to do the right thing.
The speech will come on the day former PM of 49 days Liz Truss will make a speech at a fringe event on the economy.
It follows speeches on day one of the party conference from MPs including Michael Gove, James Cleverly and Defence Secretary Grant Shapps.