Boris Johnson 'won't be attending' Conservative party conference Rachel Johnson reveals
1 October 2023, 19:59 | Updated: 2 October 2023, 08:37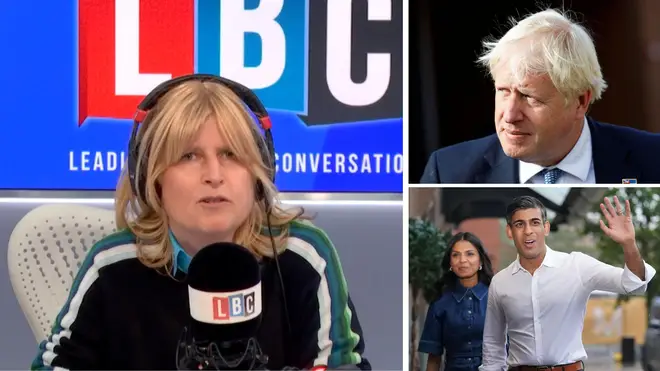 Former PM Boris Johnson "is not attending" this year's Tory party conference according to his sister, Rachel Johnson, in an apparent snub of the event.
Speaking with LBC's reporter Henry Riley, the presenter exclusively confirmed that her brother would not be attending or speaking over the course of the week.
Direct from the event in Manchester, the LBC reporter noted Boris' name did not appear in the conference itinerary - a deduction that Rachel confirmed.
"Well Henry, as your family, I can confirm exclusively he is not attending the conference 2023," said Johnson.
It comes as it was revealed Michael Gove apologised to Boris Johnson "a long time ago" for the "knifing" which took place during their 2016 fallout during the Tory leadership contest.
Rachel Johnson reveals Boris Johnson will not be attending this year's Conservative Party conference
It's a conference that saw Ed Hands bring out flip flops during his speech in a bizarre move which saw him encourage attendees to invest a pair from a stand at the event.
It comes as Rishi Sunak said on Sunday that he wants to bring taxes down, but insisted again that "the best tax cut" is halving inflation.
MPs taking to the stage during the first day of this year's conference include Foreign Secretary James Cleverly, Defence Secretary Grant Shapps and MP Michael Gove.
Asked whether they thought the current PM would make it to a second conference, one Conservative member put it simply: "No, I think he's a failure".
It follows the news that a group of rebellious Conservative MPs are set to demand tax cuts in an "unprecedented intervention".
Read more: Rishi Sunak resists calls for lower taxes, as he says slashing inflation is the best tax cut
Read more: Suella Braverman 'turned down meeting with Justin Welby to discuss immigration'
The group, who call themselves the New Conservatives, want the turnover threshold at which VAT is charged on businesses to rise from £85,000 - the level at which it has been held since 2015 - to £250,000.
Sunday, the first day of the party conference, tends to see the biggest names from the party deliver speeches across both main and fringe events.
Monday is also set to see Chancellor Jeremy Hunt deliver a pivotal speech addressing the economy.