Disabled caller worries disability allowance will be Tories' next target under guise of tackling 'economically inactive'
9 August 2023, 13:21 | Updated: 9 August 2023, 13:46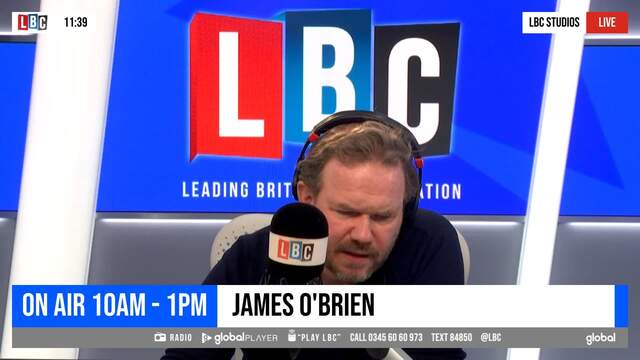 Disabled caller is worried long-term disability allowance is going to be the Tories' next target
This disabled caller is concerned that the long-term disability allowance will be the next "convenient whipping boy" for the Tories to target.
Following on from comments made by Tory deputy chairman Lee Anderson regarding migrants, James O'Brien asked listeners "how nasty" can the Conservative Party get.
Ellie in Kilburn told James: "As a person living with disability, I can see that we're going to be the next kicking... I've seen how the changes have come about."
She recalled how former Work and Pensions Secretary Ian Duncan Smith changed Disability Living Allowance into Personal Independence Payment. In 2016, Mr Duncan Smith imposed plans to cut disability support by £1.2 billion.
Ellie labelled the move "performative cruelty" that went "completely under the radar".
In an effort to adjust to further cuts made by the Conservatives, Ellie revealed to James: "I have a bath once a week if I'm lucky and I haven't used the heating in the past ten years."
READ MORE: Bibby Stockholm is 'a death trap', warns fire safety expert as first 15 migrants board controversial barge
Ellie went on: "It's short-term performative cruelty, so they can wave a thing about saying we've got yay many people off disability benefits.
"75% of the people who are taken off disability benefits who have the courage, the stamina, and the support to go for a reassessment, through a tribunal, they get their benefits back and more.
"People die in the process because they're so distressed, they don't have support, they don't have the mental capacity to answer a letter within the time period so they're sanctioned."
READ MORE: 'People are starving, people aren't eating, kids are going hungry', says this emotional Shelagh Fogarty caller
Ellie expressed her fears: "It's really very depressing that this has gone under the radar and nobody in the media wants to talk about it... it's very frightening and I think this is where they're going to put their target next."
"My world is just getting smaller and smaller with this government... we live behind closed doors a lot of us."
READ MORE: James O'Brien scolds Tory MPs for 'sub-National Front rhetoric' and their claims that migrants are enjoying 4* hotels