Right-wing media 'terrified' of the truth because it's entirely built on lies, says James O'Brien
9 March 2023, 13:56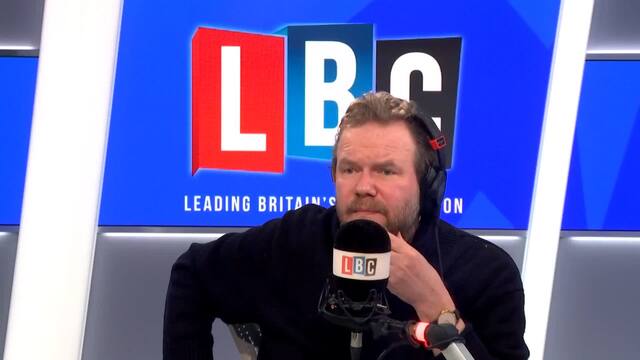 Why do the right-wing media focus on the subjects that they do?
James O'Brien explains the media reaction to Gary Lineker's condemnation of the Illegal Migration Bill.
James O'Brien spoke to listeners after Sports Presenter Gary Lineker, 62 faced criticism from members of the Tory party including Downing Street and the Home Office.
A BBC source also told the PA news agency that the corporation was taking the matter "seriously" and expects to have a "frank conversation" with the ex-England striker.
James said: "They're not tired of Gary Lineker, they're not terrified of the tweet. They're terrified of the truth because the entire project is built on lies, think about it for just five seconds.
"Lies about the European Union, lies about immigration, lies about nurses, lies about junior doctors, lies about railway workers, lies about teachers, lies about baggage handlers, lies about Megan Markle lies about Prince Harry.
"Lie after lie after lie after lie. What are you going to be most terrified of if your whole life is built on lies."
READ MORE: Gary Lineker says he stands by criticism of migrant plans and doesn't fear suspension by TV bosses
In his original tweet on Tuesday, Gary Lineker commented on a Home Office video in which Ms Braverman unveiled the Government's plans to stop migrants crossing the Channel on small boats and said the UK is being "overwhelmed".
BBC director-general Tim Davie told the BBC he had not spoken to Mr Lineker, before being asked about how many "strikes" he has had on impartiality and social media
James continued: "Boris Johnson, he's their hero, what better proof can there be of the tyranny of lies in which we live?
"And the fact that the biggest liar ever to draw breath on the public stage in this country is not only able to come to Prime Minister but he remains the hero of these people and is going to reward some of the nastiest elements of that media cabal with seats in the house of Lords."
He concluded: "They're not frightened of criticism they're not frightened of dissent they're not frightened of Gary Lineker, they're not frightened of Twitter not really, these are just symptoms of their terror because what they're really frightened of is the truth."
READ MORE: James O'Brien: Right-wing media 'don't give fig' about angering people with 'anti-refugee verbal violence'