James O'Brien fears "Thatcherism" is at the heart of a new NHS privatisation move
4 August 2023, 18:46 | Updated: 5 August 2023, 00:33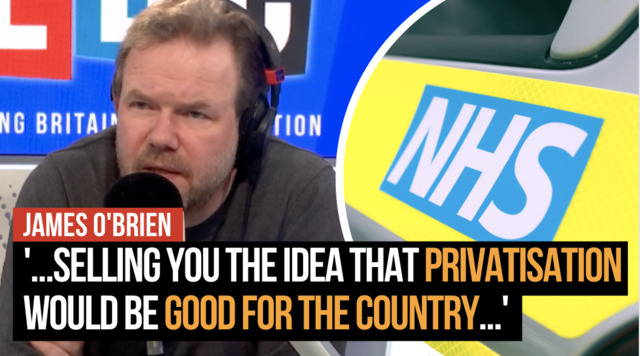 James O'Brien reacts as the government turns to private sector to help NHS
As the government announced today that more private clinics will be used to cut NHS waiting lists, James O'Brien warned listeners against "Thatcherism in a nutshell".
Eight out of the 13 new community diagnostic centres that will be opened across England will be private clinics, ministers have announced.
Whilst the clinics will still be free for patients, James asked whether further privatisation will lead to a more inefficient NHS.
He told listeners to "look at the state" of the railway, water and energy sectors – all of which have been privatised in the UK.
Read more: NHS 'goes private' in bid to cut waiting lists as independent companies asked to conduct scans and tests
"You probably marvel at the fact that in the 1980s, the people who spent much of the last decade selling you Brexit, were selling you the idea that privatisation was going to be good for the country.
"And we would end up with better railways and cheaper energy and more efficiently run water companies…It sounds mad, right?
"This is Thatcherism in a nutshell… It's at the heart of neoliberalism."
James said the move to create a "widespread consensus" around privatisation being a force for good for the NHS was shared by both the major political parties: "It includes Labour. Don't think this is entirely a Tory project."
Earlier in the day, Labour's Shadow Health Secretary Wes Streeting, said: "The Conservatives are failing to make use of private sector capacity and patients are paying the price. The next Labour government will use spare capacity in the private sector to get patients seen faster."
Health Secretary Steve Barclay said: "By making use of the available capacity in the independent sector, and enabling patients to access this diagnostic capacity free at the point of need, we can offer patients a wider choice of venues to receive treatment and in doing so diagnose major illnesses quicker and start treatments sooner."