NHS 'goes private' in bid to cut waiting lists as independent companies asked to conduct scans and tests
4 August 2023, 06:52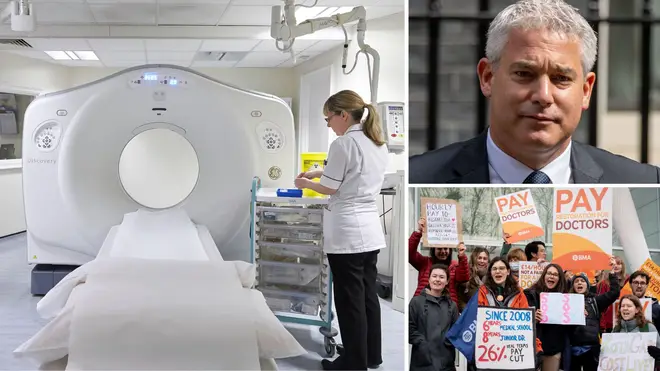 The Government has turned to private sector capacity in a bid to cut NHS waiting lists.
Thirteen new community diagnostic centres (CDCs) will be opened across England to carry out an additional 742,000 scans, checks and tests per year.
Eight of the new facilities will be operated by the private sector - although services will be free to patients - and five will be run by the NHS.
The move has been dubbed the biggest expansion of the sector since the Blair era.
It comes after figures released last month revealed that NHS waiting lists stood at 7.47 million at the end of May, the highest number since records began in 2007.
Read more 'It's simply fact': Deputy PM defends Rishi Sunak after he tells LBC strikes are to blame for NHS waiting lists
Read more: Rishi Sunak branded a 'liar' by A&E doctor after PM tells LBC strikes are to blame for NHS waiting list rocketing up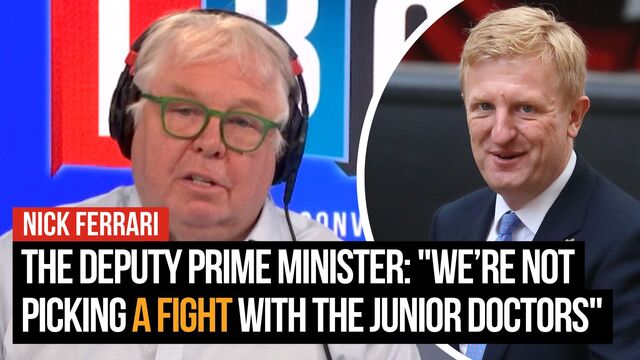 The Deputy Prime Minister notes waiting lists will 'grow' if junior doctors continue to strike
Private centres will operate similarly to their NHS counterparts but staff will be employed by private operators, which also own the buildings, the Government said.
Sites in the South West - located in Redruth, Bristol, Torbay, Yeovil and Weston Super Mare - will be operated by diagnostics company InHealth.
Other private facilities will also be located in Southend, Northampton and south Birmingham and join four already operating in Brighton, north Solihull, Oxford and Salford.
The new NHS-run sites are in Hornchurch, Skegness, Lincoln, Nottingham and Stoke-on-Trent.
The Government pledged to open 160 CDCs by 2030. There are currently 114 operating, which have carried out 4.6 million tests, checks and scans since July 2021.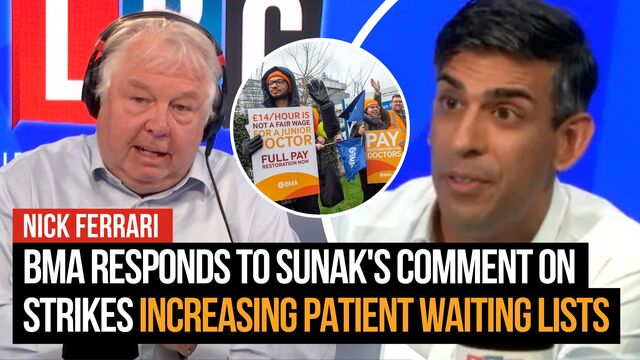 BMA responds to Sunak's comment on strikes increasing patient waiting
Health Secretary Steve Barclay said: "We must use every available resource to deliver life-saving checks to ease pressure on the NHS.
"By making use of the available capacity in the independent sector, and enabling patients to access this diagnostic capacity free at the point of need, we can offer patients a wider choice of venues to receive treatment and in doing so diagnose major illnesses quicker and start treatments sooner."
Several other measures to use capacity in the private sector have been outlined by the Elective Recovery Taskforce, which was set up in December.
Options include using data from private health providers to identify where they could take on more NHS patients to help clear backlogs. They will also look at using the private sector to train junior NHS staff.
Health minister and Elective Recovery Taskforce chair Will Quince added: "We have already made significant progress in bringing down waiting lists, with 18 month waits virtually eliminated.
"I chaired the Elective Recovery Taskforce to turbocharge these efforts and help patients get the treatment they need. "These actions will bolster capacity across the country and give patients more choice over where and when they are treated."
However, Labour said the Government is currently not making enough use of private capacity.
The party claims 331,000 patients waiting for NHS care could have been treated since January 2022.
Shadow health secretary Wes Streeting, said: "The Conservatives are failing to make use of private sector capacity and patients are paying the price.
"No-one should be waiting in pain while hospital beds that could be used lie empty.
"The next Labour government will use spare capacity in the private sector to get patients seen faster."
It comes after Rishi Sunak told LBC's Nick Ferrari at Breakfast that junior doctor and consultant strikes were to blame for waiting lists rocketing up.
"We were actually making progress…we eliminated the number of two year waiters, people waiting a really long time, we practically eliminated the number of people waiting one-and-a-half years," he said.
"We were making progress on bringing the overall numbers down. What happened? We had industrial action."
The PM was criticised for his remarks, with one ­accident and emergency medic from the East Midlands branding him a liar.