'He is the agent of corruption': James O'Brien condemn's lack of coverage on Boris Johnson partying with Lebedev
28 June 2023, 12:18 | Updated: 28 June 2023, 12:36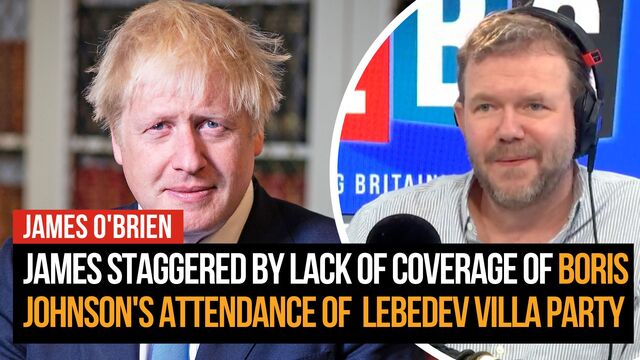 James staggered by the lack of coverage on Johnson concealing attendance at the Lebedev villa party
James O'Brien pointed to how different the media coverage would be if the revelations of Boris Johnson this morning had instead been about someone such as Jeremy Corbyn.
It has been revealed that Boris Johnson did not tell his most senior civil servant he was travelling to Italy, without any security protection, for a party attended by a former KGB spy in 2018.
In response to the news, James O'Brien asked listeners to "imagine if Jeremy Corbyn had won the election back in 2019".
He continued his analogy about Jeremy Corbyn: "He then puts the son of a KGB spy straight into the House of Lords against the advice of the intelligence services.
"Just pause for one moment and imagine what the UK media would be doing with that story."
He then asked listeners: "Do you see how mad it is now? Johnson is the agent of corruption as he has always been and always will be."
In July 2022 Johnson admitted he had met the Russian billionaire back in 2018 while attending a party at the restored castle in Perugia owned by Lord Evgeny Lebedev, his son.
Read More: Just Stop Oil invade The Ashes: Jonny Bairstow hauls protester off pitch after eco-mob throw powder paint at Lords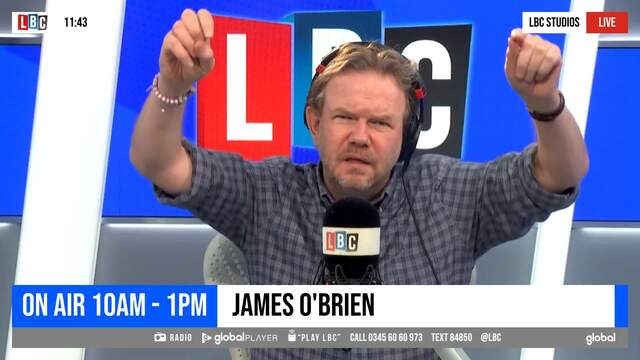 James O'Brien on the cult of Boris Johnson
The visit occurred in April, only one month after the Salisbury poisonings where Russia had launched a chemical attack on UK soil, killing a former double agent, his daughter, and another British woman.
James mused: "I've spent ten years searching for the rosetta stone to help everybody see how awful this man is and what an appalling impingement upon our country it would be if he were to continue rising through British politics."
Evidencing his thinking behind the disparity in media coverage, James said: "12 front pages about Keir Starmer having a legal curry in county Durham during a by-election campaign.
"Today not a single story about Boris Johnson the Lord and the spy."
Johnson told MPs on the liaison committee last year that he did not take any official papers with him to the party and that officials were aware in advance that he was attending the social event.
He also said in July 2022 that it would not have been normal practice for civil servants or security officials to accompany him on "such a private, social occasion".
Read More: Government draws up contingency plans for the collapse of Thames Water as company struggles under £14bn debt