James O'Brien: Conservatives have 'actively and successfully' sought to prevent legal British Citizens from voting
15 May 2023, 15:38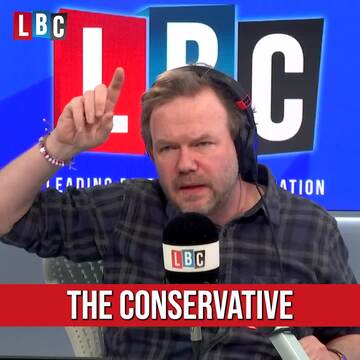 James O'Brien on Conservatives preventing voters from voting.
James O'Brien challenges the right-wing media's view on the Labour Party lowering the voting age to 16.
The Conservative government has "actively prevented people who have the right to vote from voting" exclaimed James O'Brien in his response to Labour's plans to let EU nationals and 16-year-olds vote.
The Labour Party announced it is considering expanding the UK's voter franchise to include votes for EU nationals and 16 and 17-year-olds.
READ MORE: No vote after 30 years in UK 'feels wrong': Starmer weighs up letting millions of EU citizens vote in national elections
The proposed plan could permit migrants who live permanently in the UK and pay taxes to vote in general elections for the first time.
James surmised views expressed by the Tory Party on the plans, saying: "By extending the right to vote to more people, the Labour Party would somehow be seeking to rig elections."
Questioning the rhetoric, he stated: "How bent do you have to be to think that is a valid position to pursue?"
READ MORE: Sir Keir Starmer refuses to say seven times whether he would seek a coalition deal with the Lib Dems
Jonathan Reynolds, the Shadow Business Secretary, emphasised that the proposals were an element of Labour's policymaking process in which different stakeholders can submit their ideas.
James frustratingly stated: "So the Conservative party has actively and successfully sought to prevent British Citizens who have the right to vote from voting."
Observations made by James follow comments by Conservative MP Jacob Rees Mogg who said the Conservative's voter ID was an attempt at "gerrymandering" elections that backfired.
In a speech at the National Conservatism conference in Westminster earlier today, Mr Rees-Mogg stated: "Parties that try and gerrymander end up finding their clever scheme comes back to bite them, as dare I say we found by insisting on voter ID for elections.
"We found the people who didn't have ID were elderly and they by and large voted Conservative."
The Tory MP added: "So we made it hard for our own voters and we upset a system that worked perfectly well."
Aiming his distaste at the "corrupt right-wing media" James said they are trying to "persuade you that the Labour Party's attempts to give more British Citizens the right to vote are an unfair or dishonest attempt to manipulate democracy".
Labour leader, Sir Keir Starmer, called for EU nationals to have full voting rights when he made 10 critical pledges during his leadership campaign.