Sir Keir Starmer refuses to say seven times whether he would seek a coalition deal with the Lib Dems
15 May 2023, 10:53 | Updated: 15 May 2023, 16:14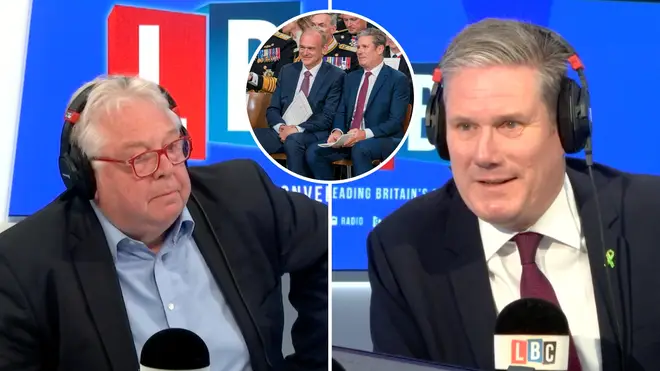 Sir Keir Starmer refused to say seven times whether he would look to form a coalition deal with the Lib Dems if Labour fail to win an overall majority at the next general election.
Labour picked up 500 seats in the recent local election elections, with Sir Keir hailing the gains as a sign that the party is on course for an absolute majority.
But polling experts have predicted that if the nation voted the same way it had in the locals, Labour would fall short, with Sir John Curtis putting Labour on 312 - 14 seats shy of an overall majority.
Watch Call Keir again in full on Global Player
It's led to questions over whether the party will be forced to make a deal with the Lib Dems in order to form a government, but appearing on LBC on Monday, Sir Keir repeatedly refused to say whether he would do so.
Nick Ferrari began by putting it to the Labour leader that looking at the percentage points enjoyed by Tony Blair prior to his landslide victory in 1997, he was 14 points ahead, while party are now thought to be between 8 and 9 percent ahead, which currently appears to put them beneath the threshold required to win outright.
Read more: No vote after 30 years in UK 'feels wrong': Starmer weighs up letting millions of EU citizens vote in national elections
Read more: 'Welcome back': Zelenskyy touches down in UK as Sunak pledges hundreds of new attack drones for Ukraine
Asked whether he would rule out a coalition with Ed Davey's party, Sir Keir dodged the question, and pushed back on comparisons with the first Blair victory, insisting dragging the party up from its disastrous performance in the 2019 general election has seen him having to do Kinnock, Smith, and Blair "in one run".
He was then asked a further six times whether he would do a deal, but wouldn't address the question.
Keir Starmer makes the case for giving 16-year-olds the vote
But the Labour leader did rule out a deal with the SNP, as he fundamentally opposes breaking up the union, and stressed there could be "no basis" for an agreement.
It came after Sir Keir was asked by a caller what assurances he could give that Labour wouldn't turn hard-left once they won power.
Sir Keir said the party has made huge changes to the Labour party in the past three years, and it is now "unrecognisable" from what it was in 2019.
He continued: "We've now changed our rules on, for example, standing for the leadership of the Labour party, so that you have to have much more support of the parliamentary Labour party, so that acts as a filter in relation to whenever the next leadership race is.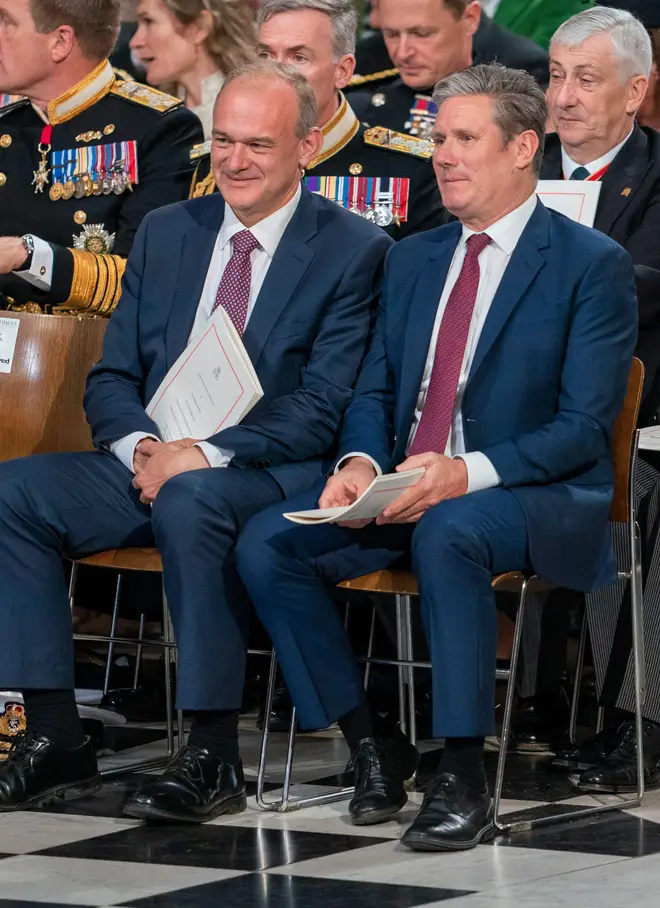 Read more: No vote after 30 years in UK 'feels wrong': Starmer weighs up letting millions of EU citizens vote in national elections
Read more: Sir Keir Stamer hits out at Guto Harri's claim that Boris Johnson described Sue Gray as a 'psycho'
He added that Labour has "carefully, carefully" selected incoming candidates to be MPs for the party, which he said where of the highest standard as the party prepares for government.
Last week, Work and Pensions Secretary Mr Stride said uncertainties over what a Labour-led government will look like may be an affective attack line for the Tories, as they bid to cling on to power.
"I think as the election hoves into view, unless Labour are clearly on for a good solid win, I think you will see coming into play all these debates, which my party will exploit," Mr Stride said.
"If you vote for Labour, what are you going to end up with? Being propped up by the Scottish National Party (SNP), are you going to get propped up by the Greens or the Lib Dems?
"I think there is plenty of grist to the political mill that flows from this issue of us kind of standing alone in that tactical sense, which might not be unhelpful."