'This is a British man!': Imprisoned media mogul's son and barrister join James O'Brien in plea for freedom
25 April 2023, 15:16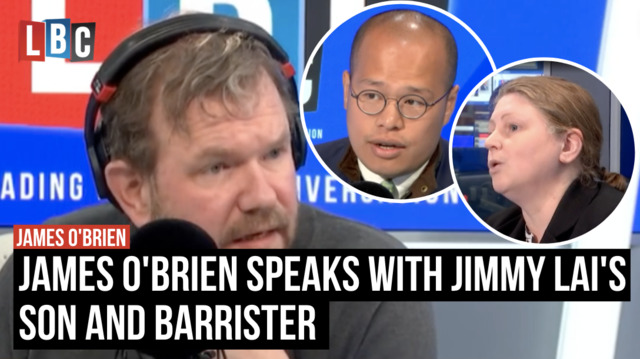 Jimmy Lai's son and Barrister join James O'Brien in a plea for Mr Lai's freedom
Barrister Caoilfhionn Gallagher KC shares her "disappointment" in the British government, saying they'd received "radio silence".
Imprisoned Media Entrepreneur Jimmy Lai's acting Barrister joined James O'Brien, discussing the government's report on 'Media Freedom in Hong Kong: the case of Jimmy Lai and Apple Daily.'
The All-Party Parliamentary Group on Hong Kong published its report yesterday, outlining the damning indictments taken by the Hong Kong authorities against Mr Lai.
READ MORE: Angry driver who confronts eco-protesters blocking the road and snatches their banner gets told off by police himself
Ms Gallagher, KC, explained to James how Mr Lai faces a "maximum of life in prison" in September under the "national security law".
Outlining how there would be "no jury" in attendance, the acting Barrister detailed his "alleged crimes" which are "publishing articles that were pro-democracy, pro-human rights and criticised the authorities".
Mr Lai, a British citizen, owner of the independent newspaper Apple Daily and pro-democracy and human rights defender, has been facing several contested charges and has been subjected to Kafkaesque trials where the verdicts were clear long before the trials began.
READ MORE: Just Stop Oil begin day two of 'slow walking' protests in London - sparking fury during morning commute
When questioned by James, as to whether the British government have been offering support, Ms Gallagher replied they'd received "radio silence for two years".
Continuing, she said: "We've been very disappointed.
"So there was radio silence for a period of two years, nothing said at all between December 2020, when he was arrested and December 2022 and that's very disappointing.
"He's a British man, Sebastian, of course, is a British man, his family are British, they expect when something like this happens their government is in their corner, but it isn't and it's a stark contrast to how the US government has been and the European Union has been."
Concluding her statement to James, the acting Barrister stated how she felt "ashamed" that the "EU and US" had shown "stronger" support on this case than the UK had.