'Musk had a chance to shorten the war', says James O'Brien as Twitter boss denies sabotaging Ukrainian counter-attack
8 September 2023, 12:54
James O'Brien on Musk's rationale around Starlink controversy
James O'Brien tries to understand the rationale behind Elon Musk allegedly turning off his Starlink satellite system while Ukrainians planned a counter-offensive.
James O'Brien delivered this monologue after Elon Musk denied claims he switched off his Starlink satellite network to hinder a Ukrainian drone attack on Russian warships.
James said to listeners: "The easiest way of reading this is that Musk had a chance to shorten the war and chose not to take it...
"He consciously chose to stymie Ukraine's attempt and ability to blow up Russian warships that have subsequently launched missiles that kill children.
"What do you think of that?"
In a new biography of Elon Musk by Walter Isaacson, it is alleged he ordered his engineers to turn off service in the area of the attack because he was worried Putin might retaliate with a nuclear response.
The exact date of the shutdown is unclear, but CNN reports he made the decision to turn it off after speaking to Russian officials who indicated the possibility of a response using nuclear weapons.
Read more: Rishi Sunak says he's 'India's son-in-law' as he touches down for G20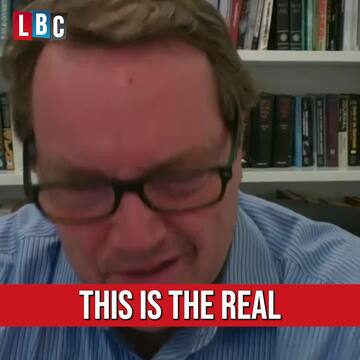 Author: Elon Musk would not have interfered with a US war
Read more: Terror suspect's jailbreak was 'pre-planned,' says Met chief Sir Mark Rowley as he doesn't rule out 'inside job'
James continued: "Here's the thing, my initial reaction to this is absolute horror.
"I used Bond villain as a bit of a throwaway line but actually even that has a little bit more depth than the simple phrase allows, it is as if he prioritises himself and his business over the lives of Ukrainians."
But Elon Musk denied the claims, writing online: "The Starlink regions in question were not activated. SpaceX did not deactivate anything," he wrote.
"Both sides should agree to a truce. Every day that passes, more Ukrainian and Russian youth die to gain and lose small pieces of land, with borders barely changing. This is not worth their lives."
Musk added: "Starlink was not meant to be involved in wars. It was so people can watch Netflix and chill and get online for school and do good peaceful things, not drone strikes."