'It will go to the supreme court': Barrister comments on court's Rwanda decision
29 June 2023, 15:08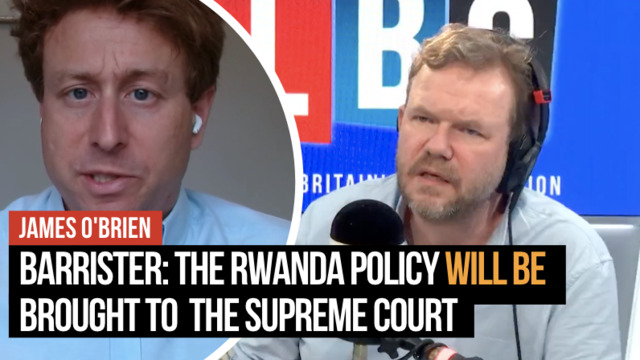 Barrister says the Rwanda policy will be brought to The Supreme Court
The government has found itself in fresh legal chaos as the Court of Appeal ruled today that Rwanda is "unsafe", delaying their plan to tackle illegal migration. James O'Brien and barrister Adam Wagner discussed the significance of the ruling.
Mr Wagner began, telling James O'Brien that the development is "massive" calling the Rwanda policy the "central plank" of the government's "attempt" to deal with illegal migration and the small boats.
James agreed, saying: "It's the lock, stock and barrel."
Mr Wagner continued: "It's the lock, stock and barrel because that's the way they said they're going to deter people.
It's all interconnected, they're saying anybody that arrives illegally cannot be considered under the asylum system, so instead of being considered they're going to be detained at government expense and then they're going to be sent to Rwanda."
He went on: "It takes them off the UK's books. They don't have to put them up anymore and it will discourage people from coming over in the small boats so it will become a sort of virtuous circle. That's their entire policy.
"But now the Court of Appeal have said in actual fact, they cannot send anyone to Rwanda because Rwanda is not a safe country."
READ MORE: 'Not a safe country': Government's Rwanda plan ruled unlawful by Court of Appeal - but PM comes out fighting
Mr Wagner continued, saying that a decision on the Rwanda plan is still "very much up in the air", noting that there Supreme Court had ruled in favour of the government previously and the Lord Chief of Justice for the Court of Appeal had also found for Home Secretary Suella Braverman's plan; being outvoted by two other judges on the case.
He maintained: "It will go to the Supreme Court and the Supreme Court could also be split."
READ MORE: Rwanda plan will be 'money well spent' if it 'makes it less attractive' for migrants crossing the Channel, minister says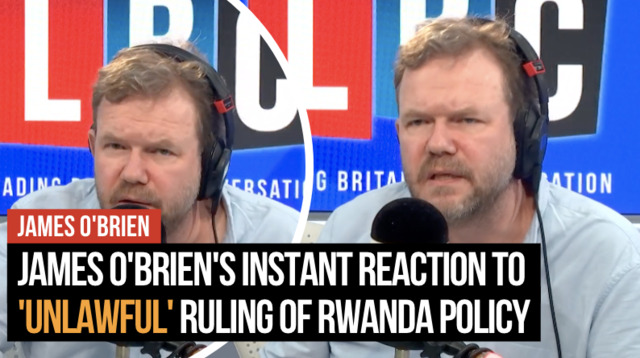 James O'Brien's instant reaction to 'unlawful' ruling of Rwanda policy
Mr Wagner also noted that a similar plan had been tried before "about ten years ago" in Isreal and that is had "failed completely."
He asked: "How can you not take into account that this exact policy has been tried and failed in another country."
Prime Minister Rishi Sunak has said the government plans to appeal the decision, something Mr Wagner says he has "no doubt" will be accepted.
When questioned on the time scale, Mr Wagner said that he did not think the appeal would be heard until Autumn, with judgement expected early next year.
James questioned: "So the likelihood of it happening this year is now nil?"
Mr Wagner said he suspected so, concluding: "I've always thought that the likelihood of anybody ever going to Rwanda is pretty low."