James O'Brien calls Rishi Sunak 'remarkable' after Brexit deal announcement
28 February 2023, 12:31 | Updated: 28 February 2023, 12:52
James O'Brien says Rishi Sunak deserves a round of applause
Commending the Prime Minister's ability to finally settle the NI Protocol deal, James O'Brien says Mr Sunak deserves a "round of applause".
James O'Brien has praised Rishi Sunak's highly anticipated Brexit deal announcement, saying the Prime Minister is "remarkable" and deserves a "round of applause".
Prime Minister Rishi Sunak asserted that the UK has "now taken back control" as he welcomed his new deal to reform the Northern Ireland protocol.
Following a meeting with the European Commission President Ursula von der Leyen, Mr Sunak now seeks to secure backing from North Ireland parties for a post-Brexit deal.
READ MORE: Rishi Sunak prepared to go ahead with 'Windsor Framework' even if DUP rejects it
Appearing in Belfast earlier today, in an effort to sell his Brexit deal, he outlined to businesses and politician's how he thinks the deal will allow trade between Britain, Northern Ireland and Ireland to flow.
Commending his recent progress, James said "after six years, nearly seven years of this, Rishi Sunak deserves a round of applause for this".
"Trust has been a crucial part from the start" James insisted, concluding that the "European Union wouldn't have met him on some of these minor concessions if they didn't trust him".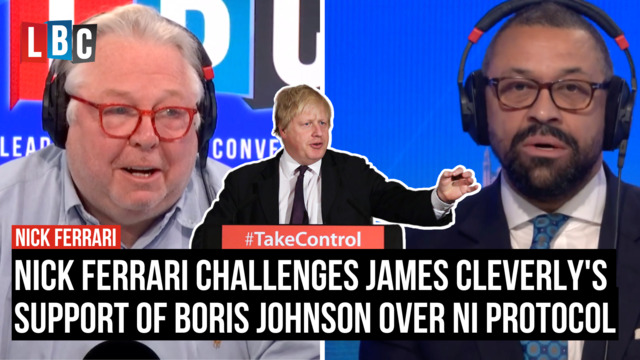 Nick Ferrari challenges Foreign Secretary James Cleverly's support of Boris Johnson
Criticising Mr Sunak's predecessor, Boris Johnson, James said Mr Johnson went into Brexit talks "like a bull in a china shop... threatening this, threatening that".
The former Prime Minister was absent from the Commons yesterday when Mr Sunak addressed MPs with his Brexit deal proposal.
READ MORE: 'Five years wasted': Caller furious after Rishi Sunak announces Brexit deal
He had been expected to attend in order to assert his views on the Windsor Framework that seeks to unify the trade knots created by his own Withdrawal Agreement.
Boris Johnson's influence could be key to whether the changes sail through in an expected vote by MPs or if serious opposition is mounted.
Some EU law will still apply in Northern Ireland - but Mr Sunak said it would be the bare minimum required for frictionless trade between the province and the EU, preventing a hard border in Ireland.
Unsure of how the deal "is going to unfold" James maintained his positive outlook on the proposed deal, stating "I think Rishi Sunak has done a remarkable thing".
READ MORE: Foreign Secretary denies government is politicising the King after criticism over meeting with EU boss
Explaining his reasoning behind his use of the word "remarkable" James said the proposed deal is "a conclusion, an agreement, a treaty. Or rather an amendment to a treaty that admits reality".