Donald Trump has 'driven a coach and horses' through security laws says Jon Sopel
13 June 2023, 14:25 | Updated: 13 June 2023, 14:27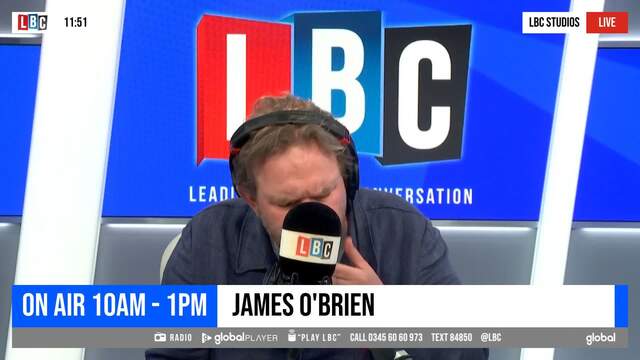 James O'Brien and Jon Sopel
Co-host of the News Agents USA Jon Sopel, discusses the 'serious consequences' the former US President Donald Trump could face, ahead of his arrival in Miami, Florida for court proceedings.
James and Mr Sopel began by highlighting how "important" the court case is, with James commenting that people could be "forgiven for thinking this is just the latest in a long almost endless stream of scandals and legal battles to engulf the former president."
The conversation comes as Donald Trump, who was President of the United States of America between 2017 and 2021, arrives in Florida ahead of court proceedings after being indicted last week.
The former President now faces thirty-seven criminal counts against him, revealed in the unsealing of the indictment on Friday, charges include unauthorised possession of classified material, obstruction of justice and making false statements to law enforcement.
He denies the charges claiming he is an "innocent man" and that this is the "latest in the greatest witch hunt of all time."
Mr Sopel explained what will happen if Mr Trump is found guilty: "The consequences are very serious, let me just put it in the starkest, clearest terms...in two years' time, Donald Trump will either be sitting behind the Resolute desk in the Oval Office and will be the most powerful man in the world, or we will be behind bars in federal prison, that is what is a stake today."
READ MORE: It's hurricane season in Florida but Miami courthouse is gearing up for the arrival of hurricane Donald
As court proceedings commence, Florida braces to handle Trump supporters, who are expected to protest outside the courthouse.
Mr Sopel added that Mr Trump has described himself as the "last line of defence," saying: "If they get me, they will get you."
In addition, he described a tweet he had seen from an unnamed Republican congressman which he said was "essentially a call to arms."
Mr Sopel continued: "What is astonishing to me is the total lack of backbone of so many Republican candidates because they think that you need to appeal to Donal Trump's base if you're going to win the nomination."
"Honestly, they're going to get whiplash because they are looking so far in the other direction."
Listen and subscribe to the News Agents on Global Player.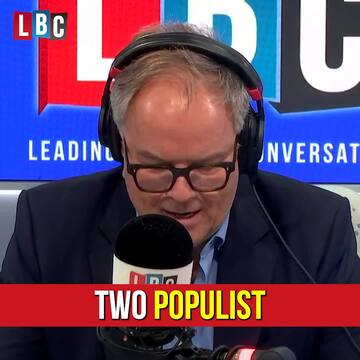 Matt Frei reacts to Trump and Johnson news
READ MORE: Light aircraft crashes into sea near Wales as lifeboats scramble to help pilot
James asked if there was any "theory" for why Mr Trump may have wanted the documents or "is it just chaotic behaviour?"
Mr Sopel replied: "He should use the defence, 'I am chaotic and I like bragging', because that is what it is about, it's bragging rights."
"The problem is, in America after Watergate...very strict laws were put into place that documents belong to the government, they don't belong to Donald Trump...and Donald Trump just drove a coach and horses through it."
Following today's arraignment, Mr Sopel said he expects it to be "at least a year" before the trial commences.
He then commented on Trump's legal team, who he reported are "ringing round lawyers," claiming, "no one wants to go near," citing a bad track record of Mr Trump paying his legal teams.
Mr Trump has been unable to secure a local Floridian lawyer to join his legal defence team after several attorneys declined to represent him.
"You'd imagine that if you were a former President of the United States and you are going to be on trial, any successful lawyer thinks "I want to be part of that' and they don't and that is a real problem for them," he concluded.