James O'Brien lambasts 'quasi-racists' who argue that to solve NHS problems we've got to 'train our own'
10 August 2023, 12:38 | Updated: 10 August 2023, 18:20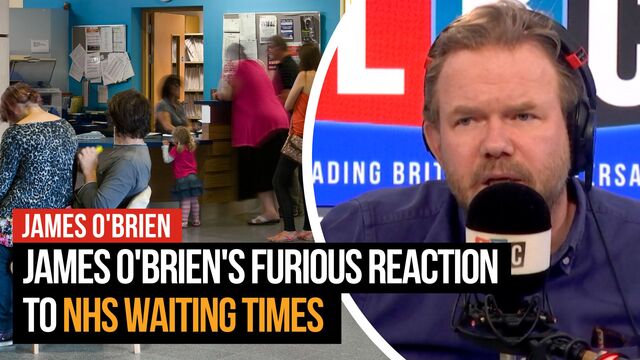 James O'Brien's furious reaction to NHS waiting times
Enraged by the government's "train our own" Brexit rhetoric of 2016, James O'Brien asks how that's working out for Brexiteers with "7.6 million people waiting to get an operation".
Following the news that NHS waiting lists have grown to a record 7.6 million, James O'Brien told listeners: "This is like night follows day logic, which apparently alludes Rishi Sunak and his mates- you give doctors a better pay deal and they stop leaving the country on the scale that they are currently or they stop mixing and matching with private sector work."
James continued: "When you reach the position where you can make that choice you would be almost stupid not to.
"Those two Rs: recruitment and retention absolutely intrinsic to the industrial action being taken, we need to make the job more attractive to get people in and to stop people leaving."
In light of these figures, the NHS says strikes have considerably impacted elective appointments and procedures, saying about 778,000 hospital appointments have been rescheduled.
James said another problem is "those quasi-racists and crypto-fascists who pretend that they want to look after and train our own."
Read More: NHS 'goes private' in bid to cut waiting lists as independent companies asked to conduct scans and tests
Expanding on this point, he said: "I hated that, I didn't hate that rhetoric enough at the time, I was too distracted by other elements the more obviously racist behaviour."
"We've got to train to train our own," he repeated. "If you're a doctor and you're looking after my kid and you happen to have been born in France or Nigeria and your turning on the radio and someone's saying 'we've got to train our own.'
"We're essentially saying you should 'f*** off back to France'", he said in reference to Tory deputy chairman Lee Anderson's comments about migrants who didn't want to board the Bibby Stockholm.
James continued: "Once they've said it to doctors and nurses they can say it to refugees with their eyes shut."
He then asked: "We've got to train our own- how's that working out for you, with 7.6 million people waiting to get an operation, 7.6 million people waiting to start routine hospital treatment?
"What happened to training our own- you've had seven years to do it now since you've got your stupid referendum over the line, where are they all?"
Answering his own question James then said: "I'll tell you where they are, they are leaving at a rate of knots, they're all going to Australia."
Read More: Soaring numbers of patients pay for vital operations as record NHS waiting lists keep rising