Soaring numbers of patients pay for vital operations as record NHS waiting lists keep rising
20 July 2023, 05:42 | Updated: 20 July 2023, 09:37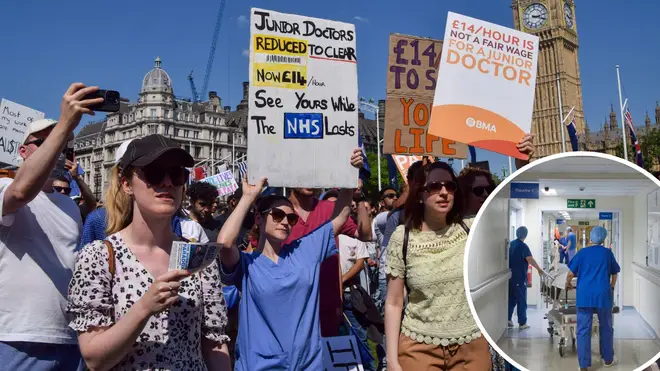 The number of patients self-funding significant operations has risen dramatically since the pandemic, according to figures shared with LBC, as the prime minister warns that industrial action is exacerbating record NHS waiting lists.
Data from the Private Healthcare Information Network, which publishes information about private consultants and hospitals, details a staggering 171% escalation in the number of people paying for their own hip replacements, with similar increases in those who are seeking knee (up 150%) and hernia operations (up 131%).
This morning, consultants embarked on a two-day walkout, with scores of elective and non-emergency procedures postponed or cancelled.
With an estimated 650,000 operations already cancelled this year as a result of NHS industrial action, it is feared the consultants' strike will compound the issues presented by the extensive NHS waiting list – which currently stands at 7.5 million.
NHS bosses fear that the impact of the consultants' strike could exceed that of the junior doctors' walkout last week, which resulted in the cancellation of around 49,000 appointments each day.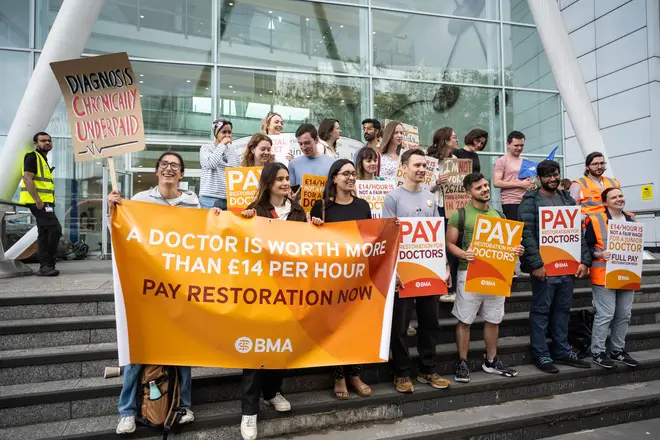 For Dr Laurence Gerlis, chief executive of Same Day Doctor, a network of private clinics across the UK, it is the sheer length of the waiting list that is driving people to use the private sector.
"It's not that the patients distrust the NHS – in fact, some people are nervous about the cover they'll get in a private hospital if something goes wrong – it's purely about waiting times: people wanting to get on with their lives and, in some cases, wanting to get back to work as a result of having a successful operation," he said.
Read more: Desperate patients rip out teeth with bare hands and resort to glueing replacements in NHS dentist crisis
Dr Gerlis adds that the figures shared with LBC correspond with the trends at his practices.
"I'm not at all surprised by this and it fits in with my own experience. Arthritis of the hip and knee are particularly disabling… and this [practice of self-paying] is becoming increasingly popular, with many of the private hospitals actively promoting it."
Patients who self-fund pay for their procedures in full, rather than offsetting the cost through private medical insurance.
Dr Gerlis said that an individual will typically pay between £10,000-£12,000 for procedures such as hip operations. For many, this means dipping into savings, acquiring bank loans, or even using fundraising sites to garner the cash.
Read more: Cancer patient dies and three seriously ill after being given unlicensed chemotherapy drugs made by NHS provider
NHS waiting lists constitute a key political battleground, exemplified by Prime Minister's Questions yesterday.
Addressing Sir Keir Starmer's question about the rising NHS waiting lists, prime minister Rishi Sunak said: "The reason that the NHS waiting lists are higher today than they were then - after actually being stable for the first months as we put in place new initiatives - is very simple, and that's because the NHS has been disrupted by industrial action."
Consultants, who earn an average of £128,000 per year, have been offered a 6% pay rise by the government in an attempt to quell the industrial action.
This, however, falls short of the 12.4% requested by the BMA, which would represent parity with what junior doctors in Scotland have been offered to call off their strikes.