'The less you've got, the more you have at stake', says James O'Brien as A-level results are released
17 August 2023, 13:34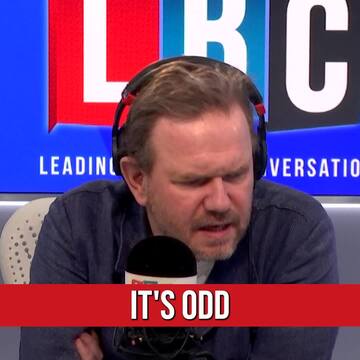 James O'Brien on the 'transformative' power of A-levels
James O'Brien discusses the changing importance of A-level grades in light of this year's results.
James delivered this monologue after top A-level grades have fallen from last year but the proportion is still above pre-Covid levels after a return to the marking system in place before the pandemic.
James began by pondering how he wonders if A-level results still have the same importance as they did once.
Before reflecting: "You know my obsession with class, I think it's right to be obsessed with class. You cannot understand the United Kingdom unless you look at almost everything through the lens of class."
James continued: "I do wonder whether you kind of have more at stake on A-levels.
"The less you've got, the more you have at stake."
More than a quarter of entries this year got an A* or A grade, or 27.2% - down 9.2 percentage points from 2022.
Read more: A-levels get tough: Results worst in four years as Ucas website crashes amid scramble for university places
But that was still a higher proportion than in 2019, the last time summer exams were taken before Covid-19 closed schools, heavily disrupting children's education.
The head of the body that represents school leaders said a return to the old marking standards would be "bruising" for a cohort that was also affected by the pandemic, just earlier than their elder peers who sat previous years' exams.
James concluded, reflecting on the "transformative" power of the exam results, reminding listeners that they are the difference "between going to university and not going to university", a monumental decision in a young person's life.
Read more: 'Disappointment' ahead for A-level students, with almost 100,000 fewer top grades expected this year