'It's out of sight, out of mind': James O'Brien shocked at lacklustre media coverage on strikes
15 March 2023, 13:35
"It's out of sight, out of mind": James O'Brien shocked at lack of media coverage of teacher strike
Teacher and NEU member Karen, shares annoyance with James O'Brien at the absence of media coverage of strikes, saying "it's not been publicised enough".
Sharing his frustration with caller Karen, a teacher and NEU member, James O'Brien queried the lack of media coverage the teaching strikes have received in recent weeks, exclaiming "where is all the response?".
Hypothesizing reasons as to why this might be the case, Karen said: "I think if they ignore it, it's not happening."
Agreeing with the teacher and NEU member, James declared: "That's it then, it's out of sight, out of mind."
READ MORE: Junior doctors, teachers, and Tube drivers among hundreds of thousands of workers staging mass Budget Day strike
Their conversation follows a bout of strikes from teachers, junior doctors, university lecturers, London Underground drivers, and Civil Servants coinciding with the Spring Budget.
Teachers from the National Education Union (NEU) are striking today and tomorrow, with Sixth-form college NEU teachers also taking part.
The Department for Education has asked for "formal talks on pay, conditions and reform", but only if the NEU called off the strikes.
The NEU said it would only suspend action if good progress was made first.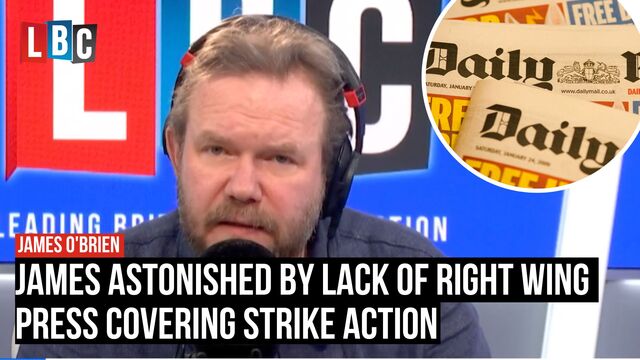 James O'Brien astonished by lack of Tory press coverage on strike action
Caller Karen continued by sharing her verdict on why the media have chosen to "dumb down" coverage, saying "it's because they know we've got the support".
She added, "the nurses have got the support, the firefighters, everybody has got the support, the paramedics have got the support because people have had enough".
READ MORE: Live: Jeremy Hunt heads to the Commons to deliver Budget as Brits hope for cost-of-living help
In a letter to parents on Tuesday ahead of the walkouts, Education Secretary Gillian Keegan said: "This industrial action will mean more disruption to children's education and to your lives too - whether that's work, arranging childcare or changing other plans.
"I am extremely disappointed that many young people will once again miss invaluable time learning with their teachers and friends, particularly after their education was significantly disrupted during the pandemic."
READ MORE: Spring Budget 2023 childcare: What will Jeremy Hunt say about childcare?
Following on from the Education Secretary's comments, Karen exclaimed: "She's disappointed in us, but were very disappointed in her."
She added: "But can I say how disappointed I am that in the last 18 months, we've had six education secretaries and in July alone we had three different ones, and not one of them has ever been in to shadow a headteacher, a teacher, an SEN teacher, or a TA."
"They've not even been in a state school."
Kevin Courtney and Mary Bousted, joint general secretaries of the National Education Union, said: "We do not want to go on strike - we want to be in the classroom, teaching and supporting children and young people.
"It continues to be a regret that our members have to take strike action, but we know that parents and the public understand the gravity of the situation around school funding and teacher recruitment and retention."