'Kemi Badenoch has adopted Truss' strategy', says James O'Brien as UK negotiates India trade deal
23 August 2023, 13:28 | Updated: 23 August 2023, 13:45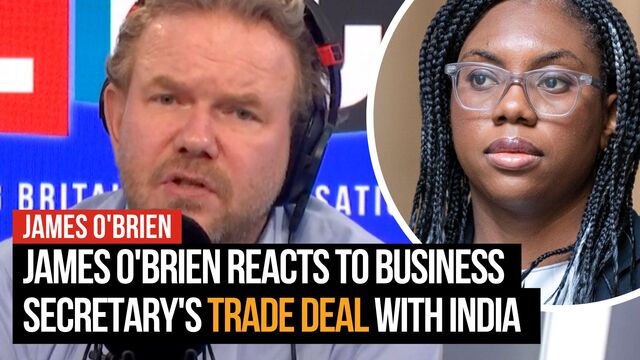 James O'Brien: 'As Liz Truss disappears stage right, here stage even righter is Kemi Badenoch.'
James O'Brien reacts to Trade Secretary Kemi Badenoch's claim that her new EU deal shows Brexit "voices of doom" being "silenced".
James O'Brien delivered this monologue after it was announced that business secretary Kemi Badenoch will visit India for trade talks ahead of the G20 Summit.
Negotiations between the United Kingdom and India are being ramped up this week, with the aim of reaching an agreement prior to Narendra Modi's upcoming election next year.
James began by highlighting former Prime Minister Liz Truss' rise to power through trade deals as accomplishments, despite their resemblance to existing agreements, including the "detrimental" Australia deal.
He said: "Stage left or stage right actually here, stage even righter or stage far right.
"Here comes Kemi Badenoch, who is now doing exactly the same thing that Liz Truss did to suck up to the right-wing newspapers and gaslight the Conservative Party membership, who will be responsible for choosing the next Tory leader."
Minister Kemi Badenoch has said the deal will silence anti-Brexit "voices of doom". She hit back at sceptics, claiming "global Britain is thriving".
Read more: No gender neutral toilets in new public buildings, as minister demand separate loos for men and women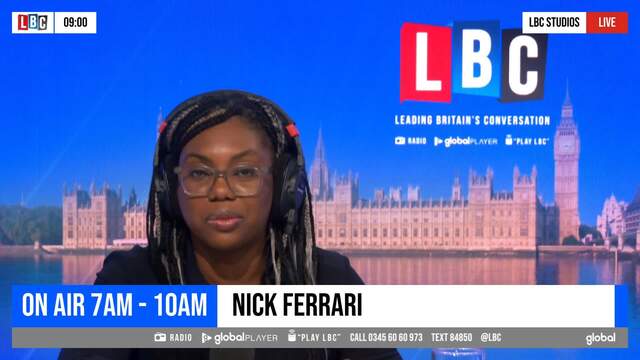 Kemi Badenoch: 'EU trade is doing well'
James continued: "And I mean, listen, I'm supremely comfortable, as you know, with people coming here to work in the hope of improving their lives.
"But a hell of a lot of people who voted for Brexit told me that it was the brown ones they didn't want to hear, and if you think India is coming into a negotiation with the United Kingdom from a position of weakness, then well, I've got a rather large bridge I'd like to sell," he mocked.
Read more: 'What is wrong with these people?': James O'Brien ridicules Kemi Badenoch's trans-Pacific trade deal