James O'Brien unpacks the 'controversial' feeling of being 'equally devastated' by Palestinian and Israeli deaths
12 October 2023, 15:17 | Updated: 12 October 2023, 15:19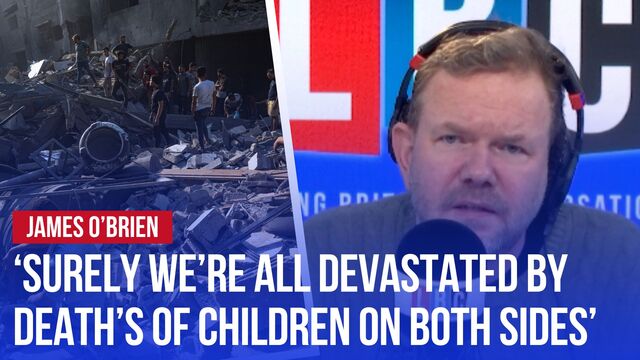 James O'Brien: 'Why does it feel like that is a controversial thing to say?'
As the death toll on both sides of the Israel-Gaza war grows, James questions why it's a 'controversial topic' to feel empathy for the deaths of children on both sides.
The death toll in Israel has reached 1,200 with more than 900 people killed by Israeli air strikes on Gaza. The Gaza Health Ministry says Israeli strikes have killed more than 1,400 Palestinians.
James began by denouncing the deaths as "utterly awful," adding he didn't feel any "differently emotionally" towards deaths on either side.
Taking into account people's personal investment in the ongoing conflict, James asserted his understanding of how that would impact your feelings for either side of the conflict.
Read more: Girls 'were raped over their friends' bodies' by Hamas carrying out 'a second Holocaust', British relatives reveal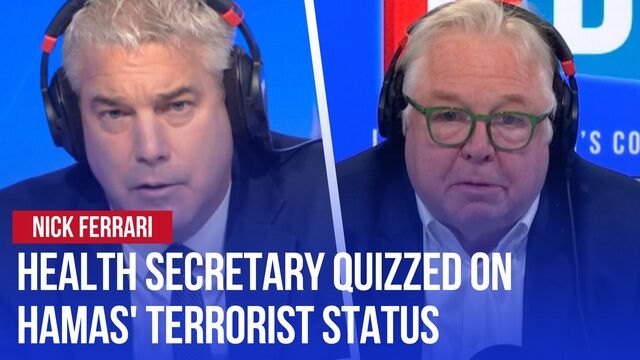 Nick Ferrari quizzes Health Secretary on Hamas' terrorist status
He noted: "I think that clearly, people have a different reaction to a killing according to their own frailties, according to their own loyalties.
"But yet surely the massive, massive, massive majority of us are as devastated by the death of a Palestinian child as we are by the death of an Israeli child.
"Why does it feel like a controversial thing to say?"
Addressing his listeners, James said: "I want you to tell me why you think I feel that."
Read more: Devastated father tearfully says the death of his daughter, 8, at the hands of Hamas is a 'blessing'
"Saying I'm equally devastated by deaths on both sides of that fence is somehow a controversial or a potentially provocative thing to say."
In a move which has invited great backlash, the English FA announced that there will be a period of silence held before kick-off at Wembley on Friday before England's match with Australia.
The moment will be held to "remember the innocent victims of the devastating events in Israel and Palestine".
Read more: 'When this is over there will be a new reality in Gaza': Advisor to Israeli PM says pledging to 'dismantle Hamas'
Seventeen British nationals, including children, are dead or missing after the Hamas attack on Israel, an official UK source has confirmed.