'I'm feeling better within myself': Nurse loses five kilos in four weeks after weight loss jab
7 June 2023, 11:57 | Updated: 7 June 2023, 12:01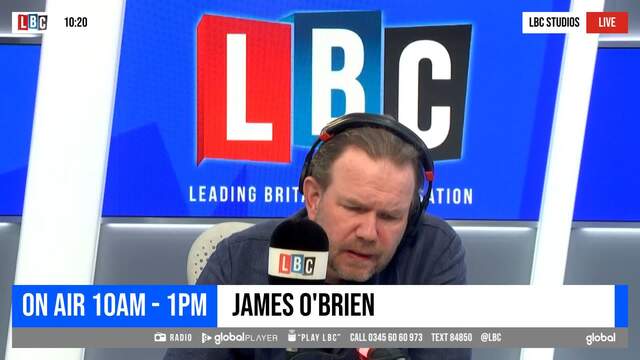 Nurse loses five kilos in four weeks
As ministers launch a £40 million trial of slimming injection, Wegovy (Semaglutide), this caller explains how it helped her.
Shez, who is a nurse in Wirral, told James O'Brien she has struggled with weight since she was a teenager, and has tried "every diet under the sun".
She already knew of the drug as she was administering it to some of her patients, and was "sad" that her GP said they couldn't give it to her despite a BMI of over 40, because she didn't have any comorbidities.
"It is odd isn't it?" James said, but acknowledged that "they have to start somewhere", adding that currently, your BMI needs to be at least 35 and you need one weight-associated condition as well to be part of the trial.
After going to a private clinic to obtain the drug, she said: "Since I've been taking the injection for four weeks, I feel that there's clearly something in me that cannot stop having this feeling of fullness."
She deduced that this must be why some people are becoming obese - "they're not getting that 'full feeling'".
READ MORE: 'Game-changing' weight-loss jab favoured by celebs like Elon Musk to be available on NHS
James O'Brien's reservations about the weight loss jab
Listen and subscribe to Unprecedented: Inside Downing Street on Global Player
"If it's to be used as a prevention rather than a cure, or a combination of both, then I think eventually it would just probably be the BMI [as a requirement] rather than anything else because it stops you from getting the weight-associated condition that you would get otherwise", James said.
They both agreed that the prevention would save the NHS money in the long run, as opposed to waiting for people to have comorbidities before taking the drug.
The young mother also said her fitness has improved and that she is feeling better about herself, as she is choosing smaller and more healthy meals.
Earlier on LBC, Health Secretary Steve Barclay told Nick Ferrari at Breakfast that this was "a really exciting innovation - a £40 million trial on the very latest drugs to tackle obesity".
He described obesity as a "massive challenge to our NHS", stating that "9 in 10 Type 2 diabetics are overweight".
The Health Secretary added that "the second biggest cause of cancer after smoking is obesity" and that it can be "difficult" to lose weight or keep it off once lost.
Some side effects include nausea, vomiting, headaches, and feeling bloated however, the caller told James that 4 weeks into taking the medication the side effects have subsided for her.
READ MORE: Junior doctors' 35% pay rise request is 'sticking point' in negotiations, Health Sec Steve Barclay says