Rishi 'seven-bin' Sunak is lifting bans that 'don't exist', asserts James O'Brien
21 September 2023, 12:53 | Updated: 21 September 2023, 12:57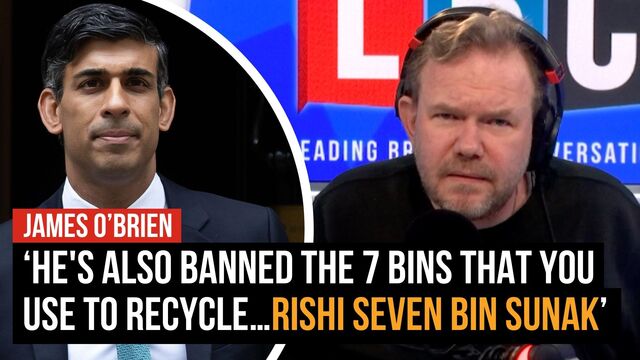 James O'Brien blasts the PM as 'Rishi seven bins Sunak' as he proceeds to lift non-existent bans
James O'Brien marvels at the Prime Minister's shifting on his Net Zero policy, pondering on the prospect of implementing meat taxes, seven bins and car-sharing laws.
Following Rishi Sunak's Net Zero policy shift announcement yesterday, James O'Brien aired his thoughts sarcastically to listeners, labelling the changes as a "genius approach" to politics.
The Prime Minister has been condemned for leaving the motoring industry "high and dry" after delaying a ban on new petrol and diesel cars.
In a passionate monologue, James asserted: "He's announcing that he's lifting bans on things that aren't banned".
The government was allegedly considering providing households with "seven bins", six separate recycling bins and one for general waste, as part of its recycling scheme.
In addition to the lifting of the "seven bin" recycling proposal, Rishi Sunak ruled out a "meat tax" which he insisted "very credible people" had discussed the implementation of.
Read more: Labour 'would reverse Rishi's Net Zero u-turn,' Shadow Environment Secretary confirms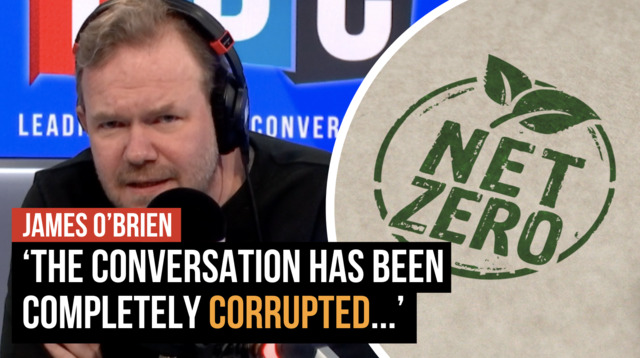 James O'Brien has his say on the government's delaying of Net Zero targets
Continuing, James said: "Rishi Sunak announced yesterday that there will be no tax on meat thanks to him.
"And because you are intelligent and informed and moderately educated, you say, 'well, hang on a minute, there is no tax on meat'."
James deemed the Prime Minister as "Rishi seven-bin Sunak," imitating him, he added: "The seven-bin recycling rule is now over, thanks to me".
Read more: Boris blasts Rishi over Net Zero plans as PM poised to 'water down' climate change commitments
The Department for Environment, Food and Rural Affairs (DEFRA) noted that it was "never the case that seven bins would be needed by a household".
Continuing to mock the Prime Minister on his proposed lifting of bans, James said: "I am told that he is about to ban glass hammers, organic elbow grease and long weights".
Mr Sunak conceded there is "lots of resistance" to his row back on climate pledges, as he dodged a question on whether he was making the move in a panic ahead of the next general election.