James O'Brien scrutinises deliberate 'dehumanisation' in immigration rhetoric
1 June 2023, 13:31 | Updated: 1 June 2023, 15:08
James O'Brien on 'dehumanising' immigration rhetoric
'Why don't we just call them people?' James O'Brien wonders in this thoughtful exploration of immigration rhetoric.
James declared "the demonisation, the weaponisation of immigration" as "the single most significant factor perhaps in our current national decline".
He went on to say that whenever he discusses the topic he is "conscious" of "dehumanising people" "accidentally or reluctantly".
READ MORE: Shelagh Fogarty urges for immigration rhetoric U-turn from 'unhealthy and unacceptable' path
"An awful lot of people in the public space do it very deliberately, it's why they would call a person 'an illegal', they'd use illegal like that, as a noun rather than an adjective, incorrectly and dishonestly," he said of dehumanising people crossing the Channel in seek of refuge.
"It's why they call refugees migrants. Migrant is a descriptive word obviously, technical descriptive word but it is not as emotionally loaded as the word child or person or human."
He went on: "It's one of those areas where even the good guys, by a sort of form of verbal osmosis, even the good guys need up deploying the vocabulary of the bad guys."
READ MORE: James O'Brien pulls apart 'grim' anti-refugee rhetoric spouted by the Immigration Minister and Home Secretary
Listen to James O'Brien's podcast Full Disclosure on Global Player.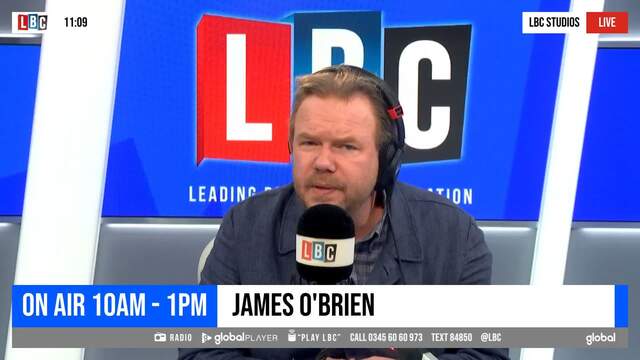 'We need immigration', James O'Brien says
James' comments come after it is reported that since Brexit the number of non-EU workers has drastically increased. To which he explained makes sense since we made it "harder" for people within the EU to migrate to the United Kingdom.
Listen and subscribe to Unprecedented: Inside Downing Street on Global Player
READ MORE: 'Assuming that people in the boats are a danger to us is self-harm,' says Shelagh Fogarty
Reflecting on the rhetoric he often sees used, he said: "I always listen to BBC headlines - is there a better word to use than migrants? You could just say people couldn't you in most of those headlines.
"Couldn't you? People crossing the Channel in dinghies - I mean who else is going to be doing?
"It's unlikely to be dirty Gerty from number thirty coming back from her holiday in Torremolinos is it?" James mocked.
"These people are clearly going to be foreign nationals," in a moment of realisation he went on "Or foreign nationals! foreign nationals crossing the [Channel]."
He concluded: "So migrants doesn't mean anything!"
He gave another example of the "corruptive nature of osmosis" which presents when people argue that "for balance" you have to point out that some of these people will not have their asylum applications accepted: "Why should I have to point out that some of these people will not have their application succeed,
"if the racists and the liars who populate every corner of the British media never point out that 80, 90 per cent of applications are actually passed? So that almost everybody that they describe as a 'migrant' or an 'illegal' is a bonified refugee or asylum seeker."