Tories desperately seeking wedge issues is the 'only way' they will retain power in 2024, says James O'Brien
29 September 2023, 13:00 | Updated: 29 September 2023, 13:03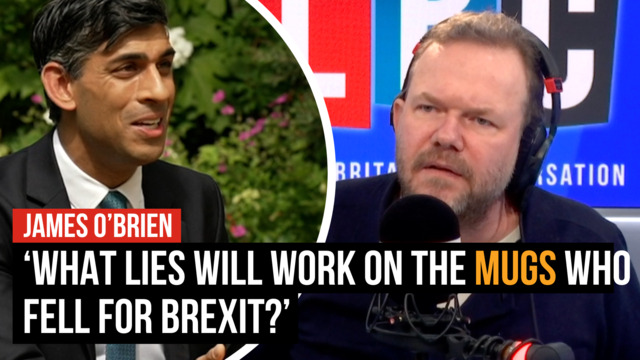 James O'Brien: 'Wedge issues' which are 'only chance' of retaining power for the Tories
The Conservatives must be asking themselves "what lies will work on the mugs who fell for Brexit" comments James O'Brien as he discusses their prospects in the 2024 election.
James O'Brien began asking: "What the hell are they going to do?" as he pontificated on the Tories arsenal of tactics for the upcoming election.
Then commenting on the "maddest thing about Tory politics", the "shovel loads" of money they have put in to advisors "whose only job is to come up with what they call, wedge issues," meaning something that will create division.
He then named examples, noting the "coincidence" of the release of a survey that states we are a "little bit more concerned" on immigration than last year.
He commented: "Still less concerned than we are about the economy or the health service but just you wait until the newspapers start turning up the heat again."
He continued: "One million British children don't have a bed of their own but hey ho, let's get cross about 20mph speed limits being introduced."
"I digress slightly, but I don't because 20mph speed limits are a wedge issue".
In a move that has been seen as a Conservative effort to become the 'party of the motorists' Prime Minister Rishi Sunak is expected to block councils from introducing 20mph speed limits as part of a raft of policies for drivers.
READ MORE: Major incident declared after school bus flips over on M53 leaving up to 50 pupils injured - one with major trauma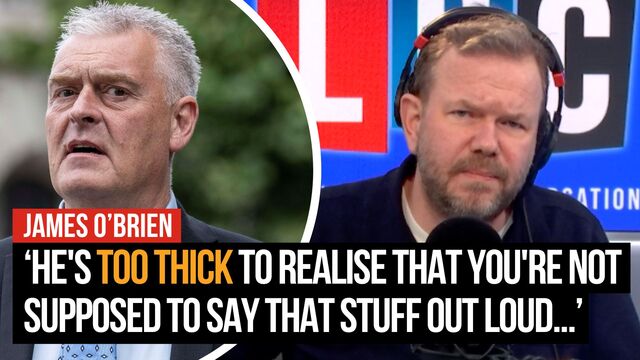 James O'Brien: Lee Anderson has made it clear that Tories will fight next election on culture wars
READ MORE: Boy, 17, appears in court charged with murder of Croydon schoolgirl Elianne Andam
James went on: "What's going to work, what lies can we tell the mugs who fell for Brexit?"
"That's the question that every Conservative activist and campaigner and politician is asking."
Continuing, he stated that the Tories need to come up with a "new load of lies" as that is the "only way" the Conservatives will retain power in 2024.
He concluded: "The contempt with which they, and their friends and think tanks and newspapers must hold you if you're in that category should really prompt you to give your head a wobble."
"They simultaneously despise you and find you hilarious."