Caller slams Tories for bringing 'horrendous mist of anger' to UK through Brexit
7 March 2023, 14:16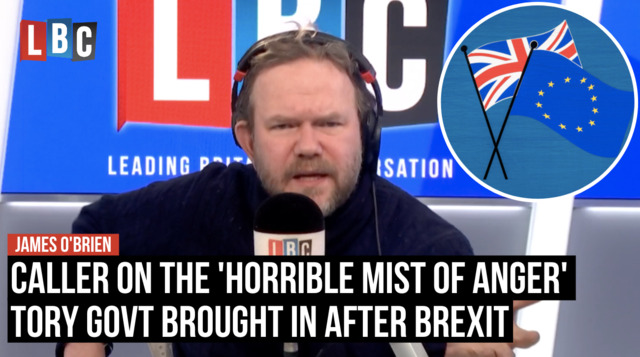 Passionate caller tells about the 'horrible mist of anger' the Tory govt has brought with Brexit
This caller told James O'Brien the UK is going through a "midlife crisis" and he doesn't want his children to grow up "in this atmosphere".
Speaking to James O'Brien, Jason in Horsham, who is of dual nationality, reflected on the "casual racism" he watched his father experience as he grew up, having moved to the UK from Spain.
Whilst he said this diminished in the 1990s, he believes Brexit has prompted its emergence again as he can sense a "horrendous mist of anger".
He then said "we've got to go", referring to his family moving back to Spain as he says the UK has become "oppressive".
This comes as new immigration laws set to be introduced have prompted backlash for being too hardline, as they have been said to push the boundaries of international law.
The new policies guarantee automatic deportation for small boat migrants and prevent them from returning to the UK or claiming citizenship.
Jason apologised for being "emotive" as he referred to the death of the child of a Syrian doctor on a journey to refuge in the UK, exclaiming "why haven't we learned as a country...that we need to help?".
He went on to say that he can't understand why Suella Braverman "wants to hate everyone that comes into the country".
READ MORE: 'Nothing about Brexit is normal or fair': James O'Brien brands vote leave advocates as 'liars'
Jason then blamed Nigel Farage who he said has been allowed to "run wild" and that his "seeds" are now spreading. James elaborated on the point, referring to Farage's "children" as those who have "sucked at his tit of hate".
Jason then said his family are "100%" moving. James mentioned the repercussions of Brexit on those without dual nationality. "They didn't take away your freedom," he told the caller.
"Not only did they take it [freedom] away from us, but Priti Patel told us to celebrate having it stolen."
READ MORE: 'Lets be clear, they're coming here': Braverman unveils migrant crackdown warning 100m refugees are eligible for asylum