'People are starving, people aren't eating, kids are going hungry', says this emotional Shelagh Fogarty caller
7 August 2023, 22:27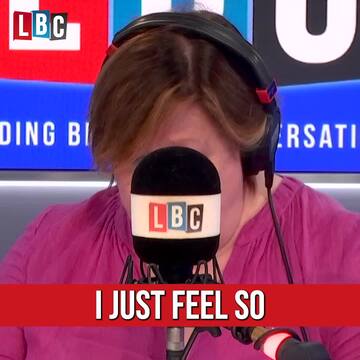 Shelagh Fogarty speaks to this caller
This caller passionately emphasises the truth of the cost of living crisis, telling Shelagh Fogarty that Brits need to have "more empathy" for people who they see on the street.
Claire revealed the harsh reality of the cost of living crisis, telling Shelagh Fogarty how she feels like she's let her children down.
She continued to say: "People are starving, People aren't eating, Kids are going hungry.
I had one of my kids' friends come over the other day and tell me that he hadn't eaten dinner last night because his mum didn't have anything in the fridge."
The call comes as energy bills have surged since government support started being phased out at the end of March.
At the same time, wages, food costs, and drink prices have all increased significantly, putting pressure on thin profit margins.
With household budgets also stretched by the cost of living crisis, customers have cut back on going to the pub.
READ MORE: Record number of pubs forced to call last orders as 'perfect storm' caused by soaring costs and weak demand hits
Claire continued: "I just wanted to let people know that, you know, these things are horrible and there are people out there really, really struggling.
And I don't think anybody who doesn't understand can see how easily a family that was doing fine can be tipped into not doing fine, by events.
"It just shows you are one night away, You are one bad paycheque away, you are one bad event away from anything. So have empathy for people who you see in the street."
READ MORE: Boots stores closure: First of 300 shops begin to close - here's the full list