Government's migration plan is 'illegal in so many ways', Lord Falconer says
8 March 2023, 16:38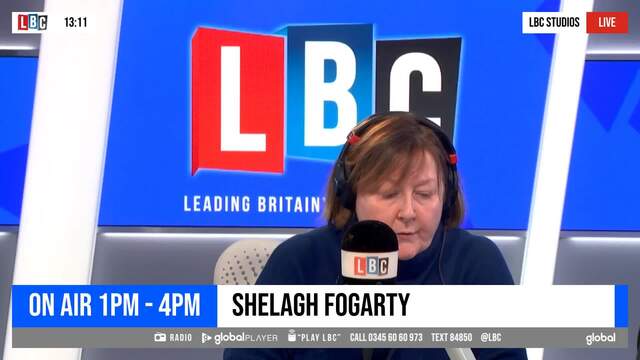 Lord Falconer on the illegality of the government's migration plan.
Ex-Shadow Attorney General Lord Falconer has said the government's plans to ban Channel migrants from claiming asylum and "lock them up for 28 days without bale" is "so illegal".
Lord Falconer, who most recently served on Keir Starmer's front bench as Shadow Attorney General, called out the government's plan to ban those crossing in small boats from claiming asylum.
He said it is "so illegal" and branded the policy's ability to "lock up migrants for 28 days without bail" as a violation of "the most basic freedom".
The government announced on Tuesday that anyone found to have entered the country illegally will not only be removed from the UK within 28 days, but also be blocked from returning or claiming British citizenship in future.
Shelagh Fogarty opened the interview, asking "Is this legal?" to which Charlie Falconer responded flatly, "no'.
He then elaborated: "I mean it's so illegal, in so many ways, it breaks lots and lots of international commitments."
This comes as Rishi Sunak said in PMQs on Wednesday that preventing the arrival of small boats is a "priority" for the British people.
Read More: Gary Lineker hits back after Suella Braverman brands his asylum policy remarks 'irresponsible'
Read More: Suella Braverman's 'misuse of language' exaggerates UK's migrant issue, Shelagh Fogarty argues
Lord Falconer took issue with this 28-day detention of migrants in particular, saying: "It allows an immigration officer to lock you up for 28 days without bail, without judicial review, without Habeas Corpus."
Habeas Corpus, an ancient act of parliament that ensures that no one can be imprisoned unlawfully, he continued is "one of, no, the most basic freedom" and this "breaks that line big time".
"It's trying to ban habeas corpus... you can't keep Afghan and Syrian families in RAF Scampton or RAF Stanton," he said.
Mr Falconer then asked: "For what purpose? For no purpose? Most people coming across the channel are coming from Afghanistan and Syria they cannot be sent back to France and they can't be sent back to Afghanistan and Syria."
Shelagh then concluded that the government "are pushing the boundaries a bit and seeing how it goes".
Read More: Nick Ferrari brands caller 'wrong' after they agree with Gary Lineker's view on the government's new migration policy