'Where is Steve Barclay?': Shelagh Fogarty 'pleads' with doctors and government to end on-going strikes
23 June 2023, 16:08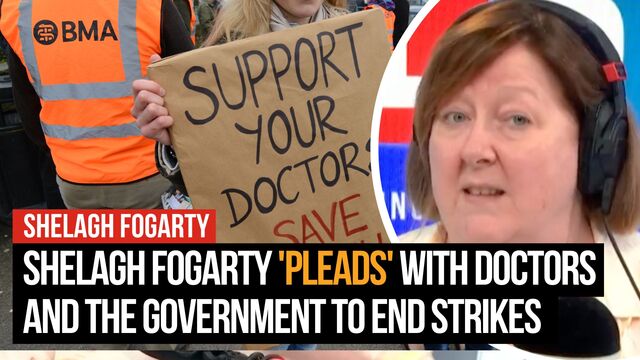 Shelagh Fogarty 'pleads' with doctors and government to end strikes
Shelagh Fogarty 'pleads' with doctors and the government to be 'grown-ups' and end the strikes as she feels 'we can't continue like this.'
Shelagh Fogarty spoke to callers after the British Medical Association (BMA) members have said they will take action from July 13 to 18, which organisers say is the longest-ever period of sustained NHS industrial action.
Shelagh said: "We can't continue like this.
"A five day doctor strike, after multiple strikes by doctors already.
"Where is Steve Barclay?
"Where is the negotiation I mean I genuinely am pleading with both sides here to do something now to get together and get in a room, be grown ups."
As the announcement was made as a BMA survey showed that junior doctors report being inundated with more opportunities to move abroad in the last four months than ever before.
Read More: Three more days of rail strikes announced by RMT for July
Shelagh continued: "I imagine that both sides want to, there is just this almost silence around it really. We don't hear enough about these strikes and their impact.
'Too busy talking about cats, we don't hear enough about the pain that's happening."
The government of South Australia even paid for trucks to be sent to junior doctor picket lines carrying job adverts offering improved pay if those doctors emigrated, it was revealed.
Read More: The Open and two Ashes tests to be impacted by fresh round of RMT train strikes