Shelagh Fogarty deems rhetoric around Illegal Migration Bill 'woeful' and 'designed to make you terrified'
14 March 2023, 19:00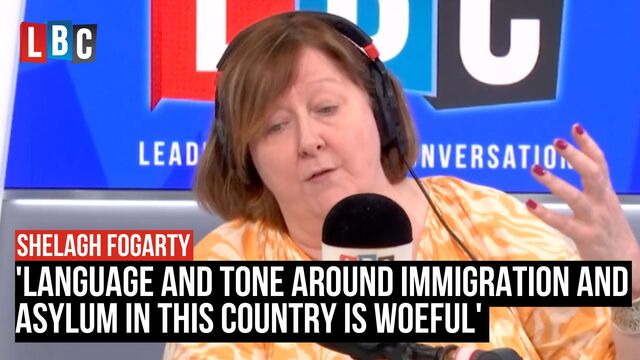 Shelagh Fogarty: Govt's language around immigration is 'woeful'
Challenging the figures Tory MPs have spewed out regarding the number of refugees crossing the Channel, Shelagh Fogarty claims they are trying to "frighten" the public.
Classifying the lexis used by Conservative MPs whilst debating the immigration and asylum challenges in the UK as "woeful", Shelagh Fogarty says the language used is "terrifying" the public.
Condemning the comments made by Tory MP Scott Benton in the House of Commons yesterday, where he insisted "100 million people" will attempt to enter the UK, Shelagh said: "I don't know whether he is lying or just thick".
READ MORE: 'There's no such thing as an illegal human being': James O'Brien despairs at use of word 'illegal' in migrant rhetoric
Shelagh's comments follow the passing of the second reading of the Illegal Migration Bill in the Commons yesterday, where 312 MPs voted in favour of the plans.
No Conservative MPs voted against the proposed legislation, although Theresa May and former ministers Chris Skidmore and Caroline Nokes, who have been publicly critical of the bill, did not register a vote, according to the Parliament website.
READ MORE: Seven Spring Budget predictions from tax, pensions, fuel and alcohol - and what the changes could mean for you
Home Secretary, Suella Braverman has been outwardly accused of adopting "extremist" language in remarks regarding how many people want to get into the UK.
Writing in the Daily Mail earlier this month, Ms Braverman said: "In the face of today's global migration crisis, yesterday's laws are simply not fit for purpose.
"There are 100 million people displaced around the world, and likely billions more eager to come here if possible".
READ MORE: 'I was expecting a longer sentence': Mum of fantasist jailed for rape lies says she must 'accept' her daughter's crimes
Reacting to the Home Secretary's comments regarding the number of migrants crossing the channel, Shelagh said: "This is what I mean, they are insulting your intelligence."
The Illegal Migration Bill will remove those who have crossed the Channel into the UK to a third country such as Rwanda and be banned from returning.
Ms Braverman said the bill would stretch "the boundaries of international law" without "breaking it".
Former Prime Minister Theresa May criticised the bill in the Commons yesterday, saying, "whenever you close a route, the migrants and the people smugglers find another way, and anybody who thinks that this bill will deal with the issue of illegal migration once and for all is wrong".