'Why can't it be a person of the people?': Ex-broadcaster frustrated at BBC chairman appointment system
28 April 2023, 17:24 | Updated: 28 April 2023, 18:57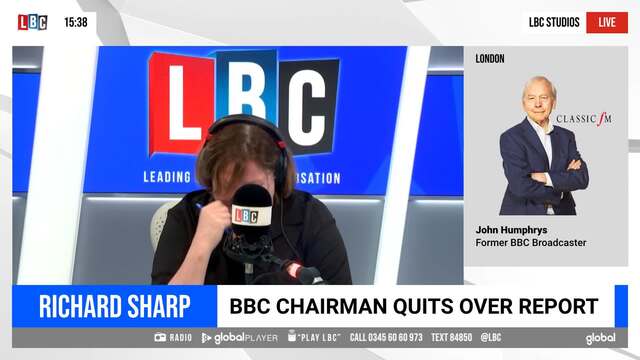 Former BBC broadcaster: People see BBC chairman appointments as doing a 'favour for an old mate'
Former BBC broadcaster John Humphrys told Shelagh Fogarty that it "was not conceivable" that Richard Sharp may have forgotten about his loan to Boris Johnson.
Former BBC broadcaster John Humphrys told Shelagh Fogarty of the significance that Richard Sharp's resignation carries.
He said: "This is serious...because it means that government has to find a better way of doing it, we can't have these political appointments, they don't work they shouldn't happen.
"The idea that Boris Johnson borrowed or at least had the offer of a loan of £8000, I mean it's outrageous."
Shelagh asked: "Is it conceivable that Richard Sharp, knowing that fact having gone to Simon Kay's to talk about it just forgot to mention it in the board, or did he do it knowingly?"
Mr Humphrys replied: "No I don't think it's conceivable.
"Could you forget arranging a loan or helping to arrange a loan of £8000 for the Prime Minister of our great nation who has it in his power to appoint you to the Chairman of the BBC?"
READ MORE: BBC chairman Richard Sharp resigns after breaching code for public appointments
The former broadcaster continued: "I don't quite know what the qualification is.
"In the ideal world, the chairman of the BBC would not be some mighty, powerful banker or somebody who's big in politics or has in any sense truly vested interest in the BBC or rather the power that gets influences, that he exercises."
Mr Humphrys went on to question why the BBC chairman can't be a "person of the people".
He said: "Why does it have to be someone grand...
"So long as it's in the hands of the politicians it's going to be seen, one way or the other as doing a favour to an old mate.
"One way or the other."
READ MORE: 'Not now, not ever': Gary Lineker wades into BBC chairman row saying candidates shouldn't be chosen by government