'Ticking time bomb': Expert explains the scale of the staff retention problem facing British prisons
25 June 2023, 11:34
Ex-prison governor blames pandemic and 'culture' for retention problems in prison service
Former prison governor and sociology professor John Podmore warned of a "ticking time bomb" as prison officers say they are unsafe, understaffed, and underpaid.
Mr. Podmore told Shelagh Fogarty that the situation is a "perfect storm that has been brewing for quite some time and it's now coming to a head."
He went on to explain the "recruitment and retention problem", blaming saving cuts which meant experienced officers were removed and younger, cheaper staff were recruited who "had difficulty coping".
Mr. Podmore then explained how the repercussions of Covid-19 have impacted the service saying that during the pandemic prisons "slipped into a sort of mass solitary confinement."
"As prisoners became more and more unlocked, then young inexperienced prison officers weren't used to dealing with frustrated angry prisoners and they decided 'I can earn the same money in a less stressful situation,'" he continued.
READ MORE: Emergency 999 number back in operation after 'critical' technical fault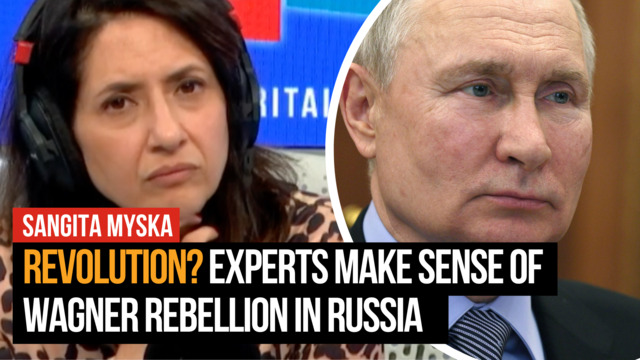 Revolution? Experts make sense of Wagner rebellion in Russia
On solitary confinement as a result of Covid-19 Mr. Podmore thanked Shelagh for discussing the topic agreeing with her that the topic has been under-reported.
"It's horrendous...we have an excellent Chief Inspector of Prisons and an excellent Chief Inspector of probation who are regularly reporting horror stories."
"Solitary confinement means either living on your own or with someone else in what is effectively a car park space when you're in there for 23 hours a day...it's torture.
"When you're in that situation it is not a nice place to work...when you're just working in a warehouse then there is no job satisfaction there," he continued.
READ MORE: Wagner private army stands down coup attempt on Moscow after talks with Kremlin
He went on: "You know, we can blame Grayling and we can blame Raab, but there is a fundamental problem of leadership and culture within the prison service itself...it's an overly bureaucratic behemoch and it needs to change."
"Part of the problem is culture, they'll always be difficult places to work but they can be fulfilling places to work," he concluded.