James O'Brien in hysterics as Brexit-voting farmer forced to admit EU is better off
23 February 2023, 13:18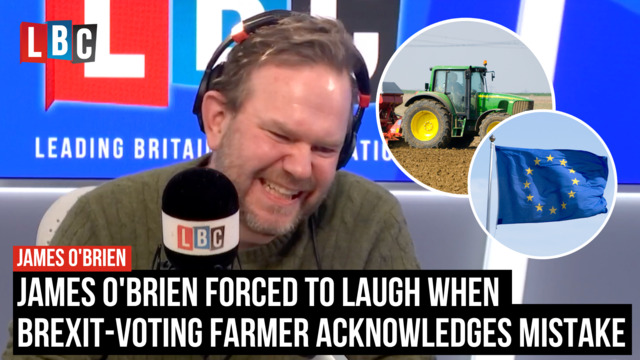 Brexit-voting farmer confesses that European farmers are better off because of the EU
After this Brexit-voting farmer revealed the struggles faced by British farmers, he was forced to confess that European Union farmers were better off.
James O'Brien immediately recognised his caller as Murdo in Fife - a "Brexit-voting, tractor-driving farmer" who used to phone in to chat about Brexit years ago.
James was curious to hear from farmers as the UK faces shortages on supermarket shelves as bad weather and soaring energy prices have ravaged supplies and caused hardship for British farmers.
As British supermarkets like Asda, Morrisons and Tesco impose customer limits on the sale of vegetables, many living in Europe have taken to Twitter to share photographs of fully stocked shelves - even on the front-lines of war in Ukraine.
READ MORE: Supermarket in war-torn city of Kherson in Ukraine bursting with fresh produce as Brits face shortages on shelves
Murdo told James how the "shambles of a government" had handled the CO2 shortage.
He explained the government were forced to step in to pay for the running of one of the UK's major fertiliser plants, CF Fertilisers, to secure UK CO2 production after its shutdown due to high gas prices.
"My point is - taking back control is good but when you give control to people who have not got a clue, it's a very dangerous game", Murdo concluded.
James asked: "But they're the same people that told you to vote for taking back control… so who were you expecting to take control Murdo?"
James then questioned Murdo over the fact "there's no shortages" of food in Europe.
He wondered: "How did those countries cope with the fertiliser issue?"
"They're subsidising the fertiliser", Murdo responded to which he was forced to acknowledge: "well the European Union", sending James into a fit of laughter.
James responded: "Are you ready to admit your mistake yet?"
He added: "Having explained in quite a lot of detail how British farmers were shafted by that fertiliser issue, just tell me again how it was that European Union farmers avoided it?"
"Oh the EU", Murdo finally relented.
READ MORE: Why are supermarkets rationing fruit and veg? Food shortage rules explained