Five arrested after Palestine supporters stage 'sit-in' protest at King's Cross station in London
3 November 2023, 18:50 | Updated: 3 November 2023, 23:27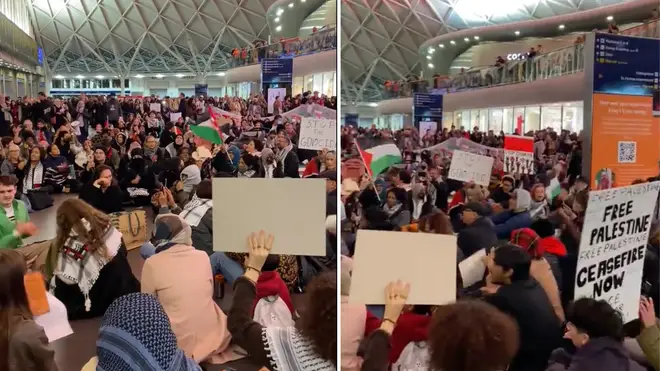 Five people have been arrested after Palestine supporters staged a "sit-in" protest at King's Cross station.
A crowd of hundreds of people sat on the floor in the central London station at about 6pm to protest the Israeli invasion of Gaza, which has claimed thousands of lives.
Protesters holding placards and waving Palestinian flags could be heard chanting: "Ceasefire now!"
Footage from the station appeared to show police removing protesters from the scene. The crowd was moved from the station by about 7pm, but protesters continued to chant.
British Transport Police said that they had arrested two people.
Police previously said that they had new powers banning gatherings such as this at King's Cross.
Transport Secretary Mark Harper said: "While the right to peaceful protest is a key part of our democratic society, it cannot be at the expense of other people's right not to be seriously disrupted or intimidated."
Read more: Sickening poster at the Cenotaph: Met investigation as calls grow to stop protesters targeting 'sacred' Remembrance Day
Read more: Hezbollah leader says Israel-Hamas "battle" has "extended to more than one front" sparking fears of a wider war
Assistant Chief Constable, Sean O'Callaghan, said earlier on Friday: "We are aware of a planned demonstration at Kings Cross Station later this afternoon, Friday 3 November.
"We fully respect the rights of people to protest lawfully but where we believe this could cause serious disruption to railway services, we must take action.
"We have therefore obtained consent to utilise powers under Section 14a of the Public Order Act 1986 which enables BTP to make an order prohibiting a trespassory assembly at Kings Cross station. To organise or take part in an assembly during the prohibition commits an offence.
"We continue to work closely with our partners to manage the impact of protests for those who travel on the railways."
About 1,400 people in Israel were killed in an attack by Hamas on October 7, which sparked the current conflict. About 240 people were taken hostage.
More than 9,000 people have since been killed in Gaza in the bombardment and ground invasion by Israel, according to Hamas.
Protesters have been calling for a ceasefire in London and across the world since the conflict started.
Israel and some Western governments say a ceasefire is impossible because Hamas would not stick to it, leaving Israelis open to another terrorist attack.