Hezbollah leader says Israel-Hamas "battle" has "extended to more than one front" sparking fears of a wider war
3 November 2023, 13:46 | Updated: 3 November 2023, 14:17
Hezbollah's leader has said the Israel-Hamas "battle" has "extended to more than one front" in his first speech since the October 7 attack.
The terror group's chief Hassan Nasrallah said the Alaqsa Flood - a name used by Hamas for its attack - has extended to more than one front, and it had led to an "earthquake in the Jewish state.
His comments provoked fears there could be a wider conflict in the region. Iranian-backed Hezbollah has been engaging Israeli forces along the border, where 55 of its fighters have been killed in the deadliest escalation since it fought a war with Israel in 2006.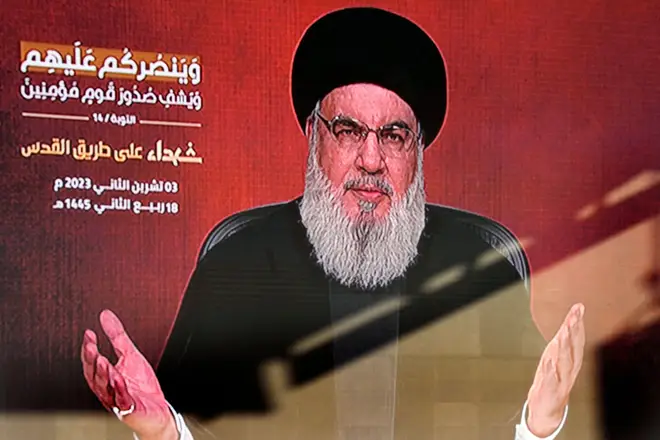 Read More: Israel encircles Gaza City as UN says four school shelters damaged in blasts with 'at least 20 killed'
Read More: We will repeat the October 7 attack time and again until Israel is annihilated, says Hamas official Ghazi Hamad
Called the attack by Hamas on Israel as "great", Nasrallah, who is rarely seen in public, told the press and a crowd of citizens: "At the beginning we have to send our gratitude to those who who supported and helped, internationally and in the Arabic world and those nations who helped and and we have to mention the Iraqi forces and the Yemeni force who came and participated in this war.
"In the last few years, it has been very hard for Palestinian people, particularly with this. very right wing government... There are thousands of Palestinians in the prison of Israel, some of them they spent most of their lives in this prison, and this and this is because of the right wing government with their stupid minister. Their human rights are very bad...This radical government is just killing our people daily basis."
He also thanked the "Iraqi, Yemeni hands that joined this battle' and celebrated pro-Palestinian protests that have been seen around the world.
"We must salute all those who took to the street in support and solidarity with the Palestinians, from all over the world. Those fallen martyrs are alive in God's paradise."
Nasrallah said the decision to launch the attack was "100 percent Palestinian" and that those responsible had kept it secret from everyone. He added that the on-going conflict was purely a Palestinian issue, and has no relation to any regional issue.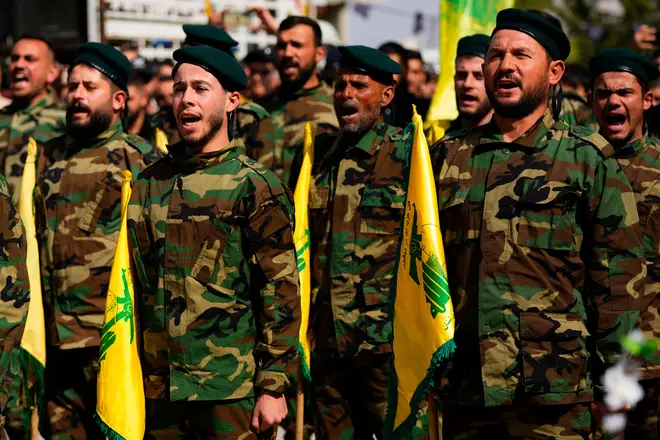 Read More: Sickening poster at the Cenotaph: Met investigation as calls grow to stop protesters targeting 'sacred' Remembrance Day
The terror group, like Hamas, is backed by iran, and clashes across Israel's northern border are stoking fears of a broader conflagration of the ongoing war.
Nasrallah's much-heralded speech was broadcast as part of an event in Beirut's southern suburbs. It was being watched keenly for any signal from the group that it may wade deeper into the conflict on the side of Hamas.