Sickening poster at the Cenotaph: Met investigation as calls grow to stop protesters targeting 'sacred' Remembrance Day
3 November 2023, 09:59 | Updated: 3 November 2023, 18:04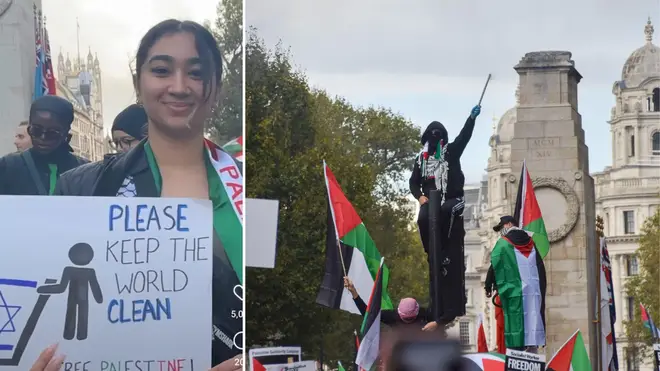 Police are investigating an image posted online that shows a woman holding an anti-Semitic sign next to the Cenotaph at a pro-Palestinian rally in London.
The placard, held aloft by a young woman, shows a Star of David being put into a rubbish bin and the words: "Please keep the world clean. Free Palestine!"
In another photo on social media she can be seen holding a placard that states: "It is not a conflict! It's genocide. Save Palestine."
Scotland Yard said in a statement: "We are aware of this post and are making further enquiries.
"An investigation is under way."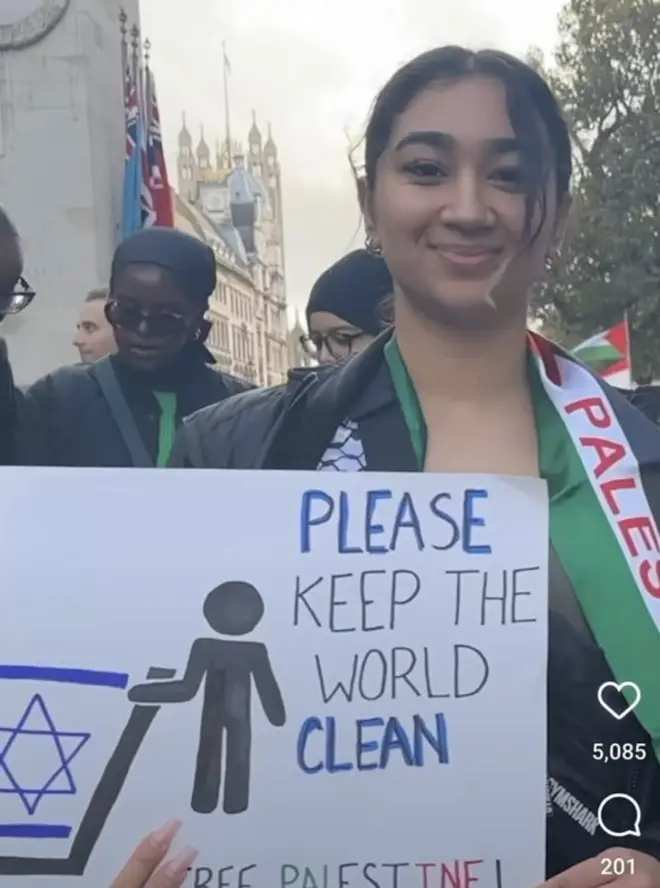 The banner is widely held to carry the meaning that the world should be rid of Jews and similar slogans have been described as "blatant anti-Semitism."
The placard is similar to one displayed by a Norwegian student at a protest in Poland last week.
She insisted the Star of David represented the Israeli government and not Jews.
The student, Marie Andersen, was eventually suspended from the Medical University of Warsaw.
She had been pictured at a pro-Palestine march in Warsaw holding a similar 'keep the world clean' banner.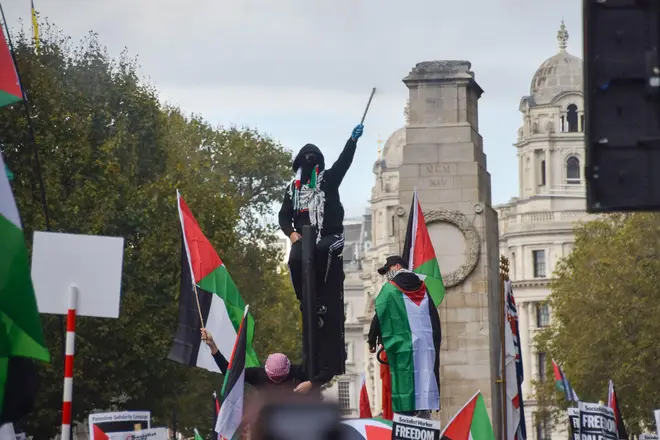 London Mayor Sadiq Khan said: "The Met Police service have a zero tolerance towards any forms of hate crime, anyone responsible for inciting hatred, dividing communities in a criminal way will have action taken against them. Often, that action is taken straight away.
"Sometimes, the police have to gather intelligence, they've got to identify the person and they will come after them afterwards. It's really important anybody thinking about breaking the law, understands the police will take action.
"This is an example of the police taking action not on the day of the person of having the illegal sign, but afterwards. And a good example of the consequences of breaking the law."
Asked his thoughts on the sign, he said: "I've seen a photograph of the sign and it's anti-Semitic clearly, the inference is quite clear. And it's really important people understand that anti-Semitism is real, it's affecting Londoners who are Jewish.
"I've met too many Jewish Londoners who are frightened scared, feel intimidated, some aren't even leaving their home and that's why we've got to understand the importance of allyship to neighbours, friends and colleagues who are Jewish."
Meanwhile the Metropolitan Police has vowed to use all its powers to stop disruption of Remembrance weekend commemorations amid ongoing pro-Palestinian protests.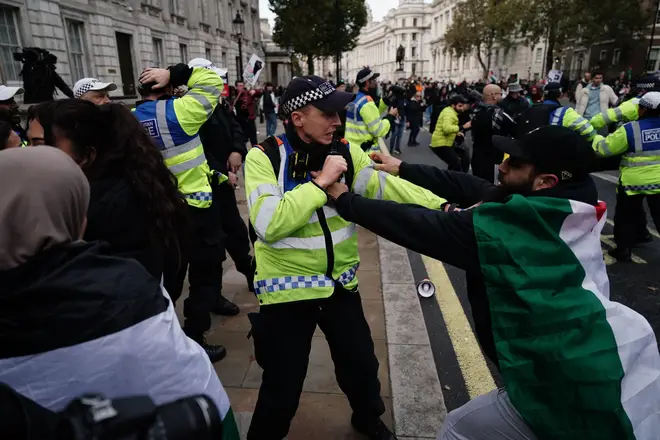 Tens of thousands of demonstrators calling for an immediate ceasefire in Israel's attacks on Gaza are planning to take to the streets of London on Armistice Day on Saturday November 11.
There are fears the march could disrupt the two-minute silence commemorating the war dead, and the daytime and evening Festival of Remembrance at the Royal Albert Hall, with the latter performance usually attended by members of the royal family.
Rishi Sunak warned that protests on Armistice Day would be "provocative and disrespectful".
He said there is a "clear and present risk that the Cenotaph and other war memorials could be desecrated".
The Met Police said officers will be deployed across the capital that weekend as part of a "significant policing and security operation".
It said protest groups have not indicated plans to march on Remembrance Sunday on November 12, but a significant demonstration is expected on the Saturday.
Organisers of the demo have pledged to avoid the Whitehall area where the Cenotaph war memorial - the focus of national remembrance events - is located.
Robert Courts, the chairman of the defence select committee, said a protest on Armistice Day would be "wholly inappropriate".
He told LBC: "The Cenotaph is not just another place in London and Remembrance is not just another date in the calendar. Both are of immense significance both to veterans and serving personnel alike.
"This is sacred ground and a sacred place in the calendar. It is wholly inappropriate for either the Cenotaph or remembrance to be hijacked for protests at all.
"And certainly not if there's anything that suggests there's something of the hatred that we've seen over the course of recent weeks."
He added that London mayor Sadiq Khan and the police have "a real and obvious opportunity" to "get ahead of this and make sure that neither that place nor that date are hijacked in a way that would cause distress rightly to so many people."
Read more: Met Police vow to use all powers available to stop disruption of Remembrance weekend
It comes after security minister Tom Tugendhat told LBC on Friday morning: "I think that there is a real opportunity for the Mayor, Westminster Council, and the Metropolitan Police to respond early to this.
"This is a matter of some concern not just to me but to many fellow veterans.
"Remembrance Sunday is not just another day in the calendar.
"I think the Cenotaph is sacred ground."
Former Chairman of the Defence Select Committee Tobias Ellwood told LBC: "It's very clear that some UK based pro-Iran organisations are using events in the Middle East to sow tensions through disinformation often directed at the younger age group. 
"There needs to be a concerted effort to avoid students being fed a false narrative. As this is not only fuelling ever violent protests but could lead to some individuals being radicalised."
He indicated that a pro-Palestine protest taking place in central London on Remembrance Sunday would not be appropriate.