Union leader behind junior doctors' strike criticised for holiday during 'largest-ever' NHS walkout
12 April 2023, 00:28 | Updated: 12 April 2023, 09:50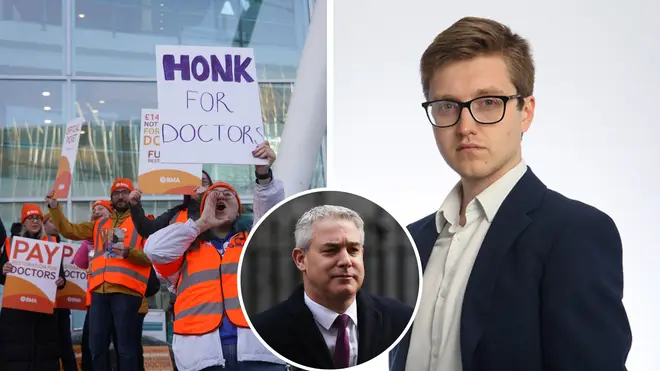 BMA union leader has been criticised for taking a week's holiday as junior doctors walk out for the second day of a four-day strike.
Dr Rob Laurenson, co-chairman of the British Medication Association's (BMA) junior doctors committee is said to have taken a week's holiday to attend a wedding while his members are engaging in the largest-ever strike.
The trainee GP is among the BMA leaders lobbying for a 35% pay rise to restore wages after a decade of inflation - and has been criticised for his decision to go to the wedding by Paul Bristow, Conservative MP and member of the Health and Social Care Committee.
Mr Bristow told the Daily Telegraph: "While we've got patients missing out, patients suffering, it seems that the leadership of the BMA are enjoying themselves on holiday.
"He is asking his members to sacrifices their pay while they go out on strike, but it seems to me he's not willing to make that sacrifice himself."
Despite a breakdown in talks, Health Secretary Steve Barclay said that his "door remains open" if the union abandons their initial 35% demand.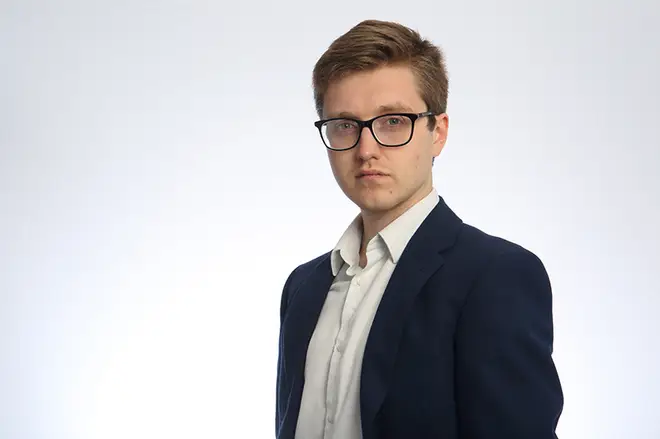 Read More: James O'Brien points out contradiction between 'looking after our own' healthcare staff while opposing their strikes
Read More: NHS leader urges Acas intervention to avert 'catastrophic' junior doctor strikes
A BMA spokesman said last night: "Dr Laurenson is off work this week fulfilling a long-standing commitment to attend the wedding of a family friend. He remains actively involved in the planning of the dispute and we expect he will be undertaking some media work."
The BMA yesterday threatened further action if ministers do not agree to its demands. Dr Vivek Trivedi, the other co-chairman of the BMA junior doctors committee, said: "Strikes are by nature designed to be disruptive, to put pressure on the Government to come to the table."
Huge crowds of junior doctors marched through the capital yesterday, displaying placards and shouting "claps don't pay the bills".
But the government has refused to even begin pay talks with the BMA union unless it abandons its 35% starting position.
The young medics joining the march have said they face real terms pay cuts which have left many colleagues with no choice but to borrow money to pay their rent and use food banks for meals.
The action this week is anticipated to have a much greater impact than the first round of strikes in March, as last month consultant colleagues covered those walking out, but this time around fewer consultants are available to bridge the gap.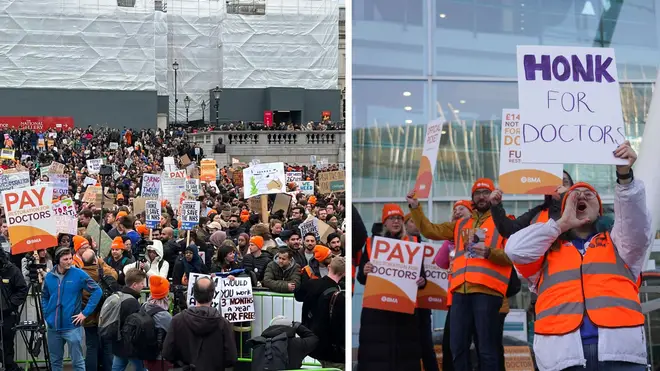 Following the first wave of demonstrations last month, the British Medical Association's (BMA) has insisted it's been left "with no choice but to call for a NHS junior doctors' strike" after the government refused to host talks over pay.
The BMA and the health secretary, Steve Barclay, have reached a standstill in negotiations, after the union demanded a 35% pay rise for junior doctors ahead of strikes.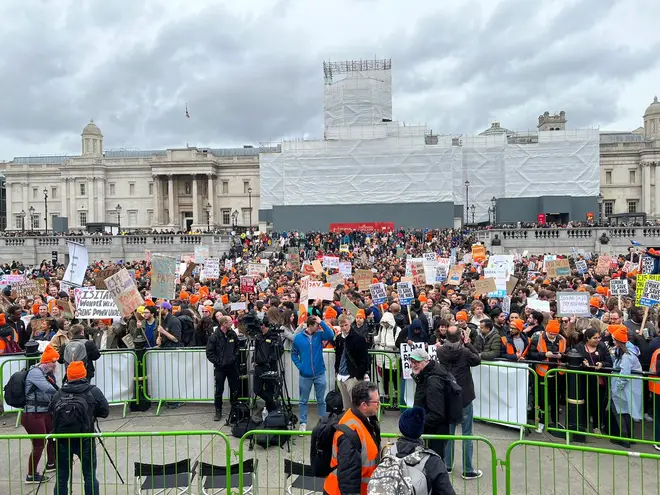 According to the union, junior doctors have had a pay cut of more than 25% since 2008/9, forcing junior doctors out of the industry and discouraging prospective doctors from training at all.
Junior doctor Arjan Singh told doctors in Trafalgar Square that "stories of patients having heart attacks in waiting rooms are far too common".
"When we risked our lives going into work during the pandemic, this Government responded with a meaningless round of applause. But claps don't pay the bills."
A junior doctor at St Mary's Hospital who is striking said she could "double" her salary in Australia.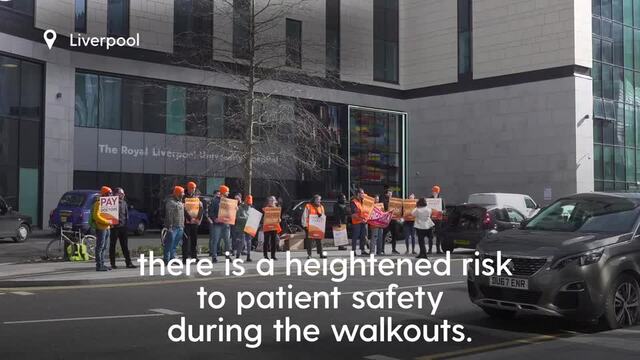 NHS faces 'unparalleled' disruption as junior doctors begin four-day strike
The 32-year-old said: "If we went to Australia overnight we could double our salary - I've got friends whose starting salary as a doctor was the equivalent of 90k at a fairly junior level.
"I know at least five doctors who have quit medicine altogether to work in health consultancy and pharmaceutical companies. That is such a waste of training."
Dr Mike Andrews, 32, who has been a junior doctor for six years, also added: "Four of my close friends went to Australia and New Zealand to work and never came back. That's what we've got to contend with. We need to attract doctors here and to keep doctors that we do have here.
"I can't leave because of my family but I am worried about how I am going to do my job in a week, a month, a year's time when we can't staff the wards already because they are leaving. Half of the jobs I've worked on, there's been 25 to 50% staff vacancies.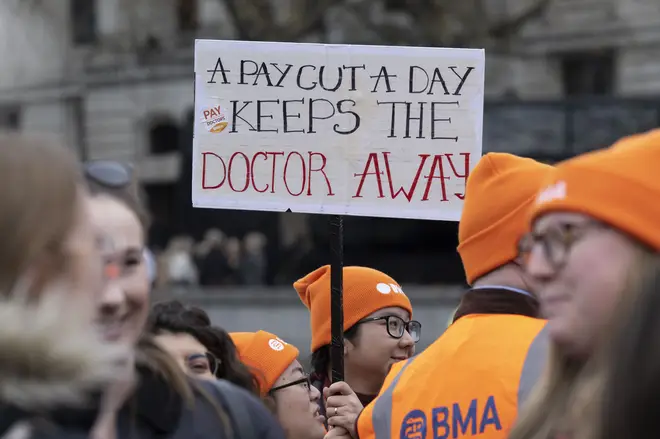 Dr Andrews said it is too busy to take a lunch break, saying: "I grab a sandwich and eat it while taking notes and eating on the ward, calling families to update them."
Downing Street, however, has defended its refusal to host talks with the BMA and said it won't change its position unless the union abandons its call for a 35% pay rise and all future planned industrial action.
A No.10 spokesman said: "It continues to be the case that we call on the BMA junior doctors to cease their strikes and revise their starting point for negotiations, which is 35%, which we continue to believe is unreasonable and is not affordable for the British taxpayer.
They also added the demands were "completely out of step with pay settlements in other parts of the public sector" and would cost the British taxpayer £2bn to cover.
The spokesman added Rishi Sunak is being kept updated about the effects of the strikes.
Posting to social media in a plea to garner more support from the public, those walking out today have taken to sharing images of their payslips on social media.
One junior doctor, who is reaching the end of his second year in the industry, shared a photo revealing a net salary of £1823.50 for the month, based on 40 hours worth of work.
Responding to the tweet, which has reached over three million, a junior doctor in training revealed this salary is more than his "take home pay last month as a bartender with nine months experience".
This rhetoric follows similar arguments made by union bosses after the first wave of strikes last month, where they claimed junior doctors would be financially better off working in a Pret a Manger.
"Thanks to this government you can make more serving coffee than saving patients," the union said at the time.
The industrial action this week is scheduled to last four days, starting today and ending early Saturday morning.
NHS chiefs have estimated that the strikes will result in the cancellation of 250,000 and 350,000 outpatient appointments and operations that were due to take place this week.