'I have read hundreds of parliamentary reports but never one like this': Ben Kentish's Partygate report analysis
15 June 2023, 18:40 | Updated: 15 June 2023, 22:16
The Privileges Committee's report into whether Boris Johnson's lied to Parliament is a proper marmalade-dropper. I have read hundreds of parliamentary reports. I've never read one like this.
Usually, committees of MPs report in coded, cautious terms. Things that go wrong are "regrettable" or "disappointing". People who commit wrongdoing have "questions to answer". Not the Privileges Committee. Not in this report.
The 30,000 word, 106-page evisceration of Boris Johnson's conduct is brutal. In almost every paragraph, indeed in almost every sentence, the committee rejects the former prime minister's defence, slams his interpretation of events and disparages his credibility and integrity.
Their conclusions are crystal clear: that Boris Johnson lied, repeatedly. That he lied to Parliament and lied to the committee.
That his repeated claims that the lockdown events he attended were within the rules and guidance were "so disingenuous that they were by their very nature deliberate attempts to mislead the Committee".
Read more: Boris Johnson accused of 'an attack on democracy' as Partygate report rules he misled Parliament in five different ways
He had, they said, frequently "closed his mind to the truth". The MPs conclude that "Mr Johnson's conduct was deliberate and that he has committed a serious contempt of the House". Oof.
If the language used was stronger than anyone expected, so was the proposed punishment. The suggestion of a 90-day suspension is the second longest handed to any MP in history.
Given that he has already quit Parliament in anger, the ban won't apply. But there will be further humiliation for Mr Johnson if the committee's report is approved by the House of Commons on Monday: he will lose his right to the parliamentary pass that is usually given to former MPs.
'The tone of its conclusions marks another nail in the coffin of Boris Johnson's political career.'

106 pages summarised in 3 minutes, @BenKentish delivers a full analysis of the Partygate report ⬇️ pic.twitter.com/g3NV4EzmIu

— LBC (@LBC) June 15, 2023
The severity of the proposed punishment isn't just a reflection of Mr Johnson's handling of Partygate and his false statements in the Commons, but also his response to the Privileges Committee.
By disclosing its findings before they had officially been published, and launching an astonishing attack on the integrity of the committee itself, the former PM infuriated the seven MPs on it – four of them Conservative.
They accused him of "an attack on our democratic institutions" and said he was "complicit in the campaign of abuse and attempted intimidation of the Committee". Strong words - but then again, never before has a parliamentary committee been traduced in this way. 
Read more: Boris Johnson has put 'our parliamentary democracy in the doghouse', ex-Tory MP says
Read more: Boris Johnson deliberately misled parliament in Partygate scandal with 'unprecedented, serious contempt,' report finds
The reality is, though, that despite the insistence of Mr Johnson and his allies that this is a "kangaroo court" and a political witch-hunt, most Tory MPs do not see it that way.
Nor does the public: in a snap poll, 69% agreed with the committee's finding that Boris Johnson lied to Parliament. All of this is another massive blow to the reputation of a man who was already wildly unpopular with the public when he left office.
Today's events mark yet another nail being hammered firmly into the coffin of Boris Johnson's political career.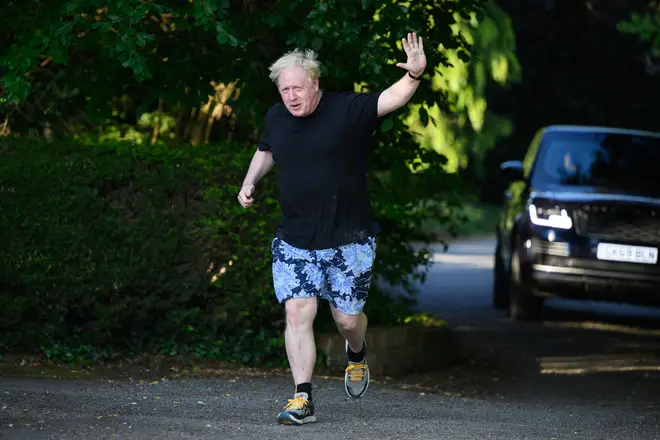 But while this is a political car crash for the former prime minister, none of it is easy for his successor. Rishi Sunak has a tricky line to tread between trying to hold his warring party together, and doing enough to distance himself from Mr Johnson's wrongdoing in the eyes of the public.
This will come to a head on Monday, when the Commons votes on whether or not to approve the Privileges Committee's report. Some of Mr Johnson's loyal supporters will turn up to vote against the conclusions.
Others will endorse the committee's findings. Most Conservatives will simply stay away, seeing no advantage to bothering to vote.
Will Mr Sunak take the same approach?
His team may well conclude that this is the easiest option, but it won't exactly look like a show of strength from the Prime Minister. Such is the bind for No10.
Either way, the backing of the opposition parties will ensure that the report passes. The finding that Boris Johnson lied - repeatedly and deliberately - to Parliament, will be endorsed by MPs. His supporters will continue to cry foul and to do all their can to undermine the committee and its conclusions.
But it is all but impossible for an MP to come back from an investigation as damning as this.
Boris Johnson, for so long such a dominant force in British politics, is gone from Parliament and gone from frontline politics.
After today, it is difficult to see how he can ever return.