Rishi Sunak 'can't reach Net-Zero by bankrupting the British people', says Suella Braverman
20 September 2023, 09:25 | Updated: 20 September 2023, 12:25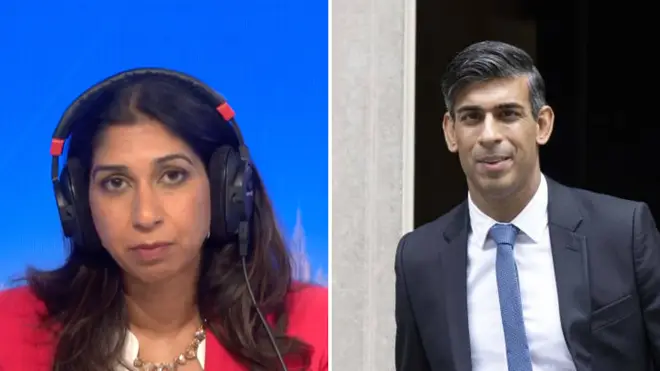 The government can't help save the planet by "bankrupting the British people", the Home Secretary has said.
Suella Braverman confirmed to LBC on Wednesday that Rishi Sunak is planning a green shift - but he will stick to reaching Net-Zero by 2050 as set out in law.
Last night leaked reports revealed plans to kick back the 2030 car ban and 2035 boiler ban in a bid to ease the pressure on hard-up households.
Mr Sunak confirmed he would make a speech this week to set out how to make going green "more proportionate".
Ms Braverman told LBC's Nick Ferrari on Wednesday morning that the PM would "remain pragmatic and proportionate about how we approach Net-Zero."
Read more: Sunak insists UK remains committed to net zero by 2050 as he considers 'watering down' key climate pledges
Read more: Liz Truss urges Rishi Sunak to cut taxes, slash benefits and raise the retirement age as she defends record in No10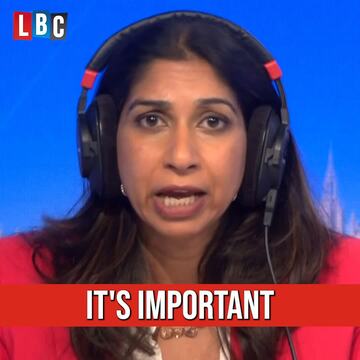 Suella Braverman on Lord Goldsmith's belief that Sunak's climate goals are a "moment of shame"
She admitted that "difficult decisions"were being taken, but added: "These targets are ultimately goals, not straitjackets.
"We won't save the planet by bankrupting the British people."
The PM would put the "economy first... household budgets first", she insisted.
"It's important we adopt an approach of pragmatism, and sustainability.
"I am incredibly proud of what we have achieved so far."
The petrol and car ban is set to be pushed back to 2035, with a sliding scale of targets for new electric cars to be brought in.
The move will take the UK in line with the EU, too.
Ministers are also expected to promise no new taxes will be put in place to stop people from flying, and eating meat.
Net Zero sceptics last night welcomed the news - saying it would be a huge relief for Brits already struggling with the cost of living.
Tory MP Craig Mackinlay said: "If reports of a delay to the rollout of unrealistic Net Zero measures are to be believed this is positive news for UK consumers.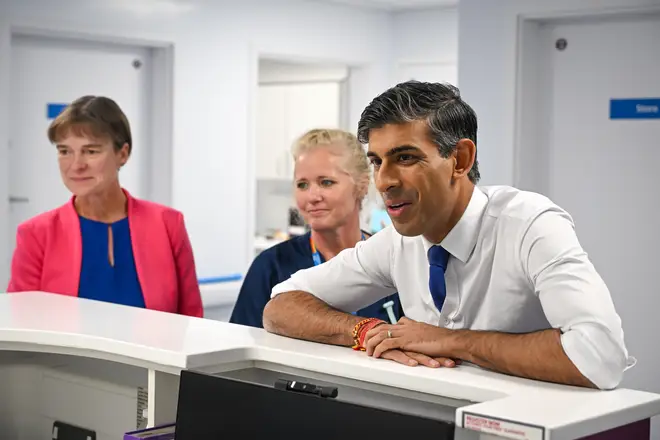 "It will make previous pie in the sky 'greenwash' deadlines into something more achievable."
And Tory peer Lord Frost added: "As I've been arguing, we must back off unrealistic net zero targets which put unmanageable pressure on hard-pressed voters' finances."
But the move has already sparked a huge row within the Tory party, who have accused the PM of going wobbly on green issues.
Sir Alok Sharma, the UK's climate tsar who coordinated the COP26 summit in Glasgow, said: "The UK has been a leader on climate action but we cannot rest on our laurels. For any party to resile from this agenda will not help economically or electorally."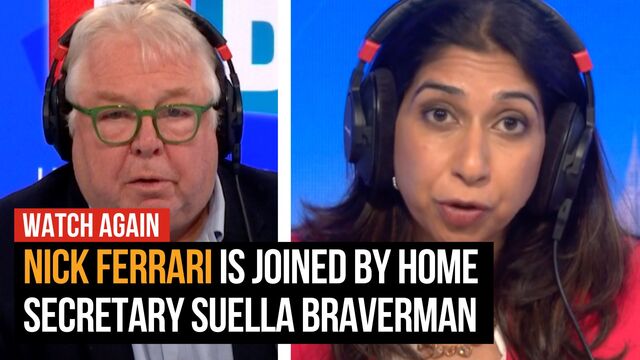 Nick Ferrari is joined by Suella Braverman
And former environment minister Lord Goldsmith said it will be a "moment of shame" for the PM to row back and accused him of failing to lead on the world stage.
But Ms Braverman told LBC: "I disagree with Lord Goldsmith, I think we need to take into account the current economic climate, we need to take into account the cost of living challenges, we need to make sure this is sustainable and affordable.
"We can't achieve an arbitrary target and in the process, bankrupt everybody."