'Think very carefully': Keir Starmer warns PM about Suella Braverman
8 November 2023, 11:15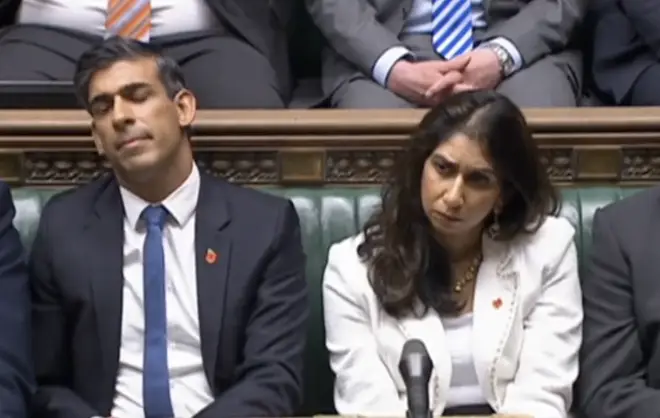 Labour leader Sir Keir Starmer warned the Prime Minister to "think very carefully" about his Home Secretary Suella Braverman, after she made controversial comments about homelessness.
Suella Braverman referred to rough sleeping "a lifestyle choice" while setting out plans to crack down on the use of tents.
"I work closely with the police and counter terrorism forces" Sir Keir Starmer said to Rishi Sunak, who appeared visibly uncomfortable while sitting next to the Home Secretary during a debate in the House of Commons.
The Prime Minister also insisted Ms Braverman is focused on the public's priorities when asked if he felt she was undermining him.
Despite expectations that proposals from Ms Braverman to ban charities from handing out tents to the homeless might have been included in the King's Speech on Tuesday, there was no mention of them.
Starmer tells Sunak to "think very carefully" about how Braverman reflects on his gov't.

🔥"Without a serious Home Secretary there can be no serious gov't and he cannot be a serious PM. Homelessness is a choice. It's a political choice."

Sunak's discomfort is palpable. ~AA pic.twitter.com/mcr2DydIqI

— Best for Britain (@BestForBritain) November 7, 2023
Downing Street sources said they were still "undergoing scrutiny".
On Wednesday, on a visit to a school in Lincolnshire, Mr Sunak was asked if there will be a restriction on tents involved in the Criminal Justice Bill.
He told reporters: "I don't want anyone to have to sleep rough and I'm proud of the Government's track record over the past few years in tackling that."
He said police should have the power to deal with "intimidating or violent conduct".
He said: "We said earlier in the year that we didn't want anyone to be criminalised for not having somewhere to live and that's why we were going to repeal something called the Vagrancy Act, which is an outdated piece of law from the 1800s, and at the same time as part of that plan we want to make sure that intimidating or violent conduct, that the police do have the powers to tackle that."
Mr Sunak again refused to repeat Ms Braverman's remarks and did not directly say he agreed with them.
Asked if he felt Ms Braverman was supporting or undermining him, the PM said: "What the Home Secretary and the Government is doing is focus on people's priorities."