Migrants who refuse to board Bibby Stockholm barge 'face losing government support'
8 August 2023, 07:01 | Updated: 8 August 2023, 07:40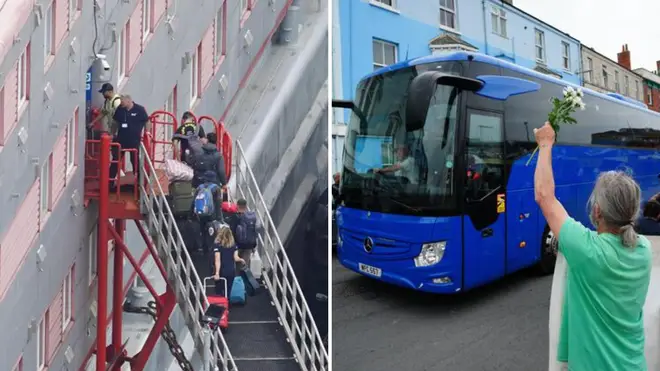 Migrants who refuse to board the Bibby Stockholm barge set up as accommodation for them face losing government support.
Lawyers acting on behalf of a refugee charity blocked the transfer of around 20 asylum seekers onto the Bibby Stockholm when the first group boarded the barge on Monday. Some 15 did get onto the barge, which has room for 500 people.
Care4Calais has said that its lawyers made legal representations to prevent the migrants who were due to board the vessel on Monday having to get on board, claiming it was "inhumane" to house traumatised people on the barge.
But the Home Office told migrants that if they did not get on the bus, the government could cancel its support for them.
The letter, seen by Sky News, says: "Arrangements were made for you to travel from your accommodation... to alternative accommodation at the Bibby Stockholm in Portland on 7th August 2023.
"On 7th August 2023 you did not take up this offer of accommodation.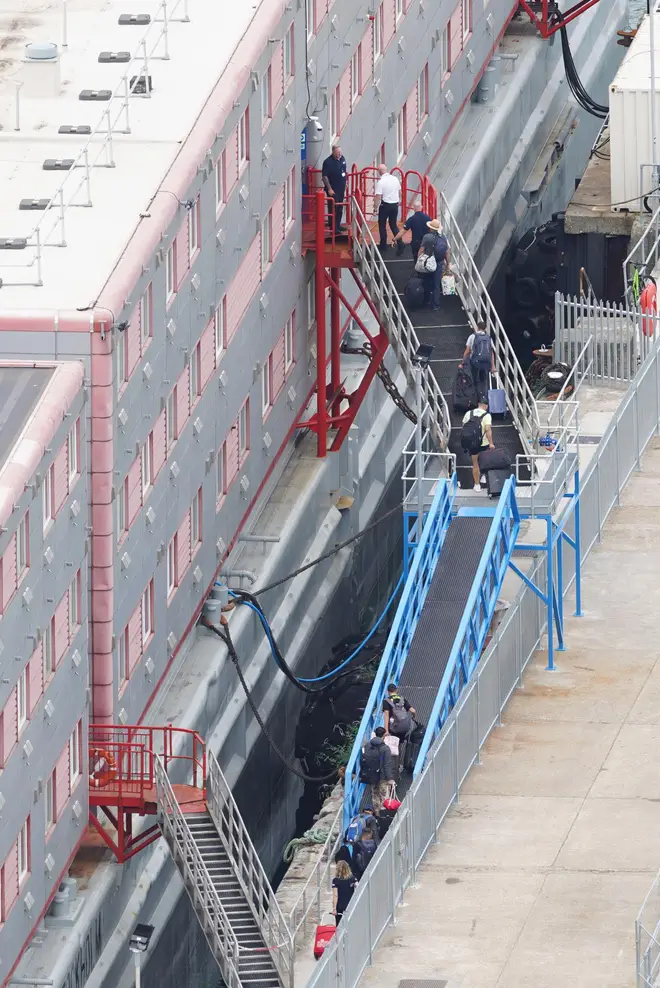 "Accommodation is offered on a no-choice basis. Where asylum seekers fail to take up an offer of suitable accommodation without a reasonable explanation, there should be no expectation that alternative accommodation will be offered.
"If you do not travel tomorrow, on 8th August 2023, arrangements for ceasing the support that you are receiving from the Home Office may commence."
The letter goes on to describe the living facilities onboard the Bibby Stockholm, including a nurse, gym, and English classes.
The initial tranche of 15 people boarded the Bibby Stockholm on Monday, as they were seen dragging suitcases into the vessel.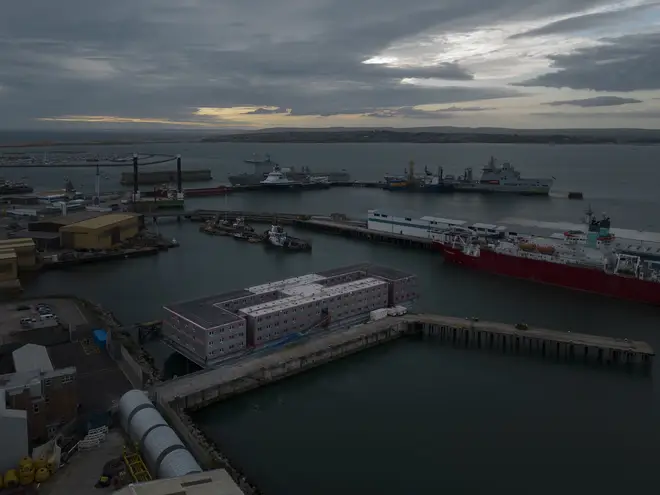 The government had expected up to 50 migrants to board - but this expectation was dashed by a series of legal challenges at the last minute.
Solicitors for the migrants who refused to get on yesterday sent legal letters to the Home Office, raising concerns about the suitability of the accommodation for people with disabilities, mental and physical health problems as well as those who had fled torture and persecution, according to the refugee charity.
The charity chief executive Steve Smith told LBC: "These individuals are effectively kept away from sunlight, daylight, other than what comes through pretty limited windows. So in effect it's close to being a detention facility for many who already would have been in detention facilities."
He also said on Monday: "None of the asylum seekers we are supporting have gone to the Bibby Stockholm today as legal representatives have had their transfers cancelled.
"Amongst our clients are people who are disabled, who have survived torture and modern slavery and who have had traumatic experiences at sea. To house any human being in a 'quasi floating prison' like the Bibby Stockholm is inhumane.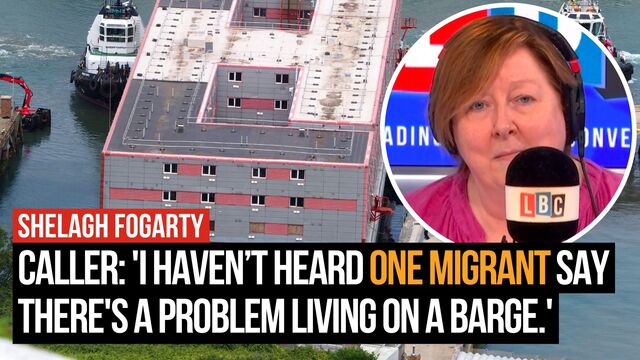 Caller: "I've not heard one migrant saying there's a problem living on a barge."
"To try and do so with this group of people is unbelievably cruel. Even just receiving the notices is causing them a great deal of anxiety."
Mr Smith also said that some migrants have seen their friends drown at sea, so "therefore have a severe fear of water".
It comes as the government pledged to crack down on "unscrupulous" lawyers who coach irregular migrants to lie to "game" the immigration system. These lawyers could face a life sentence in prison.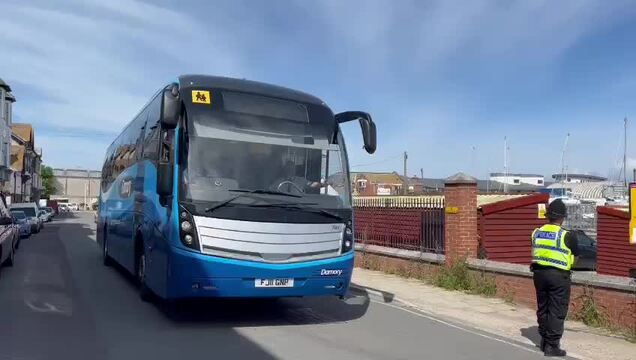 First migrants arrive Bibby Stockholm asylum barge after minister assures LBC 'it is a safe place'
The migrants who arrived at the barge on Monday were greeted by campaigners who brought them welcome packs with toiletries and flowers, as well as a map of the area. They had to leave them with security to be handed over to the men.
Government plans to house asylum seekers aboard the vessel had been stalled amid legal challenges and fire safety concerns - but have now gotten underway.
Cheryl Avery, the Home Office's director for asylum accommodation said: "We have had a few challenges but this is part of an ongoing structured process to bring a cohort of up to 500 people on board."
The policy is a cornerstone of Rishi Sunak's promise to bring down the number of people arriving in the UK - and to deter those crossing the English Channel in small boats.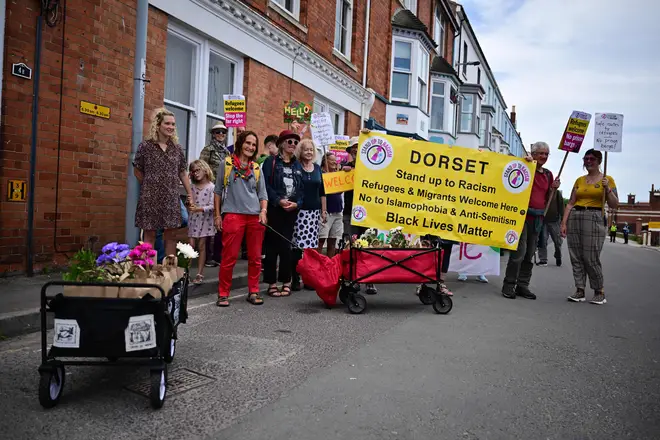 Steve Valdez-Symonds, Amnesty International UK's refugee and migrant rights director, also hit out at the plans on Monday, as he said: "It seems there's nothing this Government won't do to make people seeking asylum feel unwelcome and unsafe in this country.
"Reminiscent of the prison hulks from the Victorian era, the Bibby Stockholm is an utterly shameful way to house people who've fled terror, conflict and persecution."
As the policy is implemented for the first time, Home Office Minister Sarah Dines told LBC's Nick Ferrari at Breakfast on Monday: "It is a safe place for people to live and stay.
"It is a very complex situation.
"Let us just be clear that the Government is determined to use barges such as this one to make sure we have somewhere which is proper - rudimentary but proper - accommodation for migrants."
Read more: 'People are going to be put on it': Rishi Sunak defends Bibby Stockholm migrant barge insisting it is 'not a shambles'
Read more: Government to send channel migrants 4,000 miles to Ascension Island as 'sensible' Rwanda alternative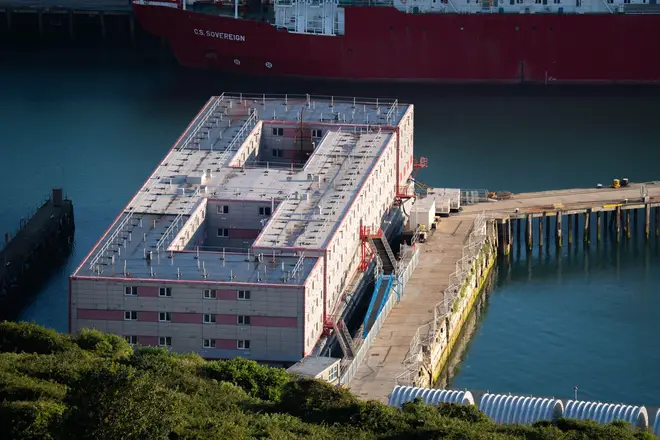 The Government is also considering reviving plans to fly people who arrive by unauthorised means 4,000 miles to Ascension Island, according to multiple reports.
The proposals to use the British Overseas Territory are apparently being considered by ministers and officials as a "plan B" if the Rwanda scheme fails.
Situated in the South Atlantic, the volcanic island could house an asylum processing centre as an attempt to reduce the number of small boats crossing the Channel.
The plans to remove asylum seekers who arrive by unauthorised means to Rwanda have been stalled by legal challenges that will end up in the Supreme Court.
The developments came during the Government's "small boats week" in which it is making a series of announcements on the issue that Rishi Sunak has promised to solve.
Fines for employers and landlords who allow people who arrive by irregular means to work for them or live in their properties are to be hugely increased.
Read more: Labour would have 'no choice' but to house migrants on barges and ex-military bases if voted into government
Read more: Bosses who hire illegal migrants to be fined £60,000 per person, with landlords risking payments of £20,000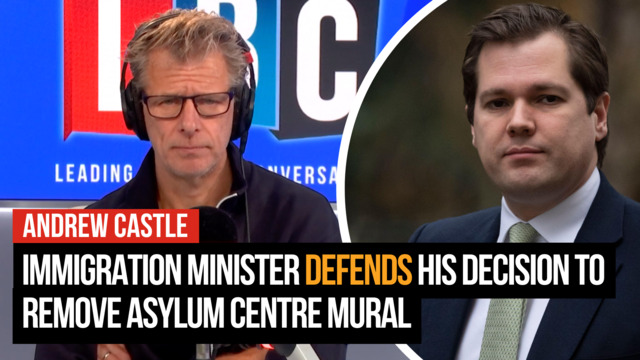 Andrew Castle challenges the Immigration Minister over his order to remove asylum centre mural
Civil penalties for employers will be increased up to a maximum of £45,000 per worker for a first breach and £60,000 for repeat offenders, tripling both from the last increase in 2014.
Landlords face fines going from £1,000 per occupier to £10,000, with repeat breaches going from £3,000 to £20,000. Penalties relating to lodgers will also be hiked.
Over the weekend immigration minister Robert Jenrick offered a guarantee that the barge is a "safe facility" after the firefighters' union warned it is a "potential deathtrap", citing concerns including overcrowding and access to fire exits.
He said increasing the numbers on the barge to the capacity of around 500 is still the plan despite concerns from the Fire Brigades Union over the vessel initially designed to house about 200.