'No one got hurt': UK's reaction to Liz Truss' premiership was 'a bit hysterical', former Bank of England governor says
13 June 2023, 19:10 | Updated: 14 June 2023, 02:17
Lord Mervyn King, says the economic consequences of Liz Truss' premiership 'weren't that bad'
The UK's reaction to Liz Truss and Kwasi Kwarteng's mini-budget was 'a bit hysterical', the former Bank of England Governor Mervyn King has told LBC.
Ms Truss was forced to sack Mr Kwarteng - before resigning to become the shortest serving prime minister of all time - after their mini-budget sent markets around the world into turmoil.
The mini-budget, which was introduced in September last year, included £45bn of unfunded tax cuts, and was followed by a fall in the value of the pound and rising mortgage rates.
Asked by LBC's Andrew Marr whether the public got hysterical during their time in office, Mr King said: "I do think we got a bit hysterical.
"I can understand to some extent why and that the government appeared to be hell bent on cutting taxes without any proper analysis or framework jettisoning the way government was being organised.
"I understand that, but I don't think the economic consequences were that bad. And frankly, they've gone away, they've disappeared now.
"What we should boast about as a country is that we had a government that we didn't think was doing very well, it lasted 44 days, we got rid of it, and no one got hurt."
Listen and subscribe to Unprecedented: Inside Downing Street on Global Player
Halving inflation 'not a bad thing to claim credit for'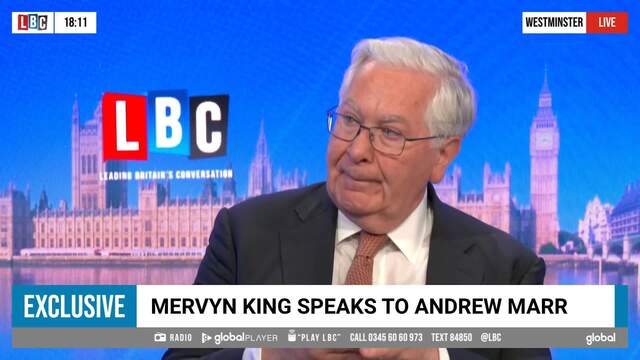 Lord Mervyn King says it's 'convenient' for Rishi Sunak to say high energy and food prices will drop
In a wide-ranging interview with Mr King, who served as the Governor of the Bank of England from 2003 to 2013, Andrew also asked about the UK's current level of inflation.
Mr King told LBC that the "stickier that inflation seems to be", central banks - including the Bank of England - may be forced into taking "tougher action" to bring it back down.
Read More: UK in 'trickier position than when Truss and Kwarteng crashed economy' as price of bonds plummet, says Andrew Marr
Read More: Increase productivity and taxes may be cut, Hunt urges public sector - after Boris' jibe to 'be more Conservative'
As for how Rishi Sunak, who has promised to halve inflation in his five pledges, can take credit for falling inflation, Mr King said "it's convenient" but "not a bad thing to claim credit for" if there is confidence it will drop.
"I think it's going to be probably not wise to do so," Mr King told Andrew.
"If you think that the high energy and food prices of last year are going to drop out of the measure of inflation...it's convenient - it's something that happens.
"But if you are confident it will happen, it's not a bad thing to claim credit for when it's actually got nothing to do with you at all."
Handling of Brexit has 'been a shambles since 2016'
Lord Mervyn King tells Andrew Marr Britain should have been more 'pro-Europe' in wake of Brexit
As for Brexit, Mr King says it has been a "shambles" since 2016 due to a failure to negotiate properly and an unwillingness to make the "pro-European case for Brexit".
Mr King continued: "We could have said, after Brexit, all EU residents in the UK will automatically have rights of residence.
"We didn't have to wait make it part of a negotiation; we just do it. We say to people from Europe, we're going to get all the machines in Heathrow Airport to work properly. You just come in, put your passport through and walk through."
He added that the UK government should have done more to ensure the country retained access to education and research opportunities in Europe.
"The atmosphere that was created in negotiations with Europe turned out to be very bad, there was no need for the atmosphere to be that bad. It clearly was going to be difficult," he said.
"There's an awful lot of work to be done in repairing relationships.
"But I think you can see in what Rishi Sunak has already done that a calm approach to this can pay dividends and I'm sure that any future government after the next election, whichever party it is, it'll be a somewhat calmer relationship."