Leave Voter Aims Personal Pot-Shot At "Not British" Gina Miller. It Backfires
10 January 2017, 21:04 | Updated: 11 January 2017, 07:01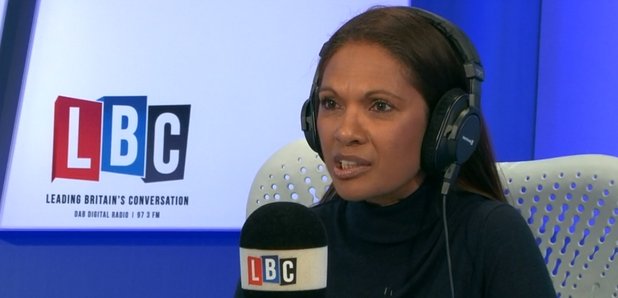 Gina Miller is the woman behind the Brexit legal challenge and Colin called in to criticise her for doing that - because "she's not British". Only one problem with that...she is.
Gina joined Clive Bull in the LBC studio for an hour to take calls on her Brexit legal challenge. Colin is one of the callers who wanted to take her to task regardless, although he stumbled when he got one key fact seriously wrong.
Miller insists that her challenge - currently being deliberated by the Supreme Court after the government appealed it - is not motivated by anything other than a desire to see British law implemented properly.
But tonight Colin told her: "The country voted for Brexit, that means that we come out.
"A lot of people voted for Brexit, because of people like Gina who sadly...a lot of people are thinking: 'Hang on a minute, she wasn't even born in this country."
Gina's response was calm but very effective: "I was actually born British because I was born in British Guyana. It became independent after my birth so I was born British.
"I've been in the UK now for over 41 years.
"I am British, I have a British passport, my children are British, my husband is British, I have every right to bring an action as a British citizen."
Colin still insisted that lots of people would have a problem with Gina bringing the case "because she wasn't born in this country" and this time it was Clive's turn to put Colin on the spot.
"Would it count if was the Falklands?"