'Europe is burning': David Lammy responds to the heatwaves and wildfires raging across the continent
24 July 2023, 11:31 | Updated: 24 July 2023, 11:59
'Europe is burning': David Lammy's response to wildfires
We're terrifyingly close to the tipping point scientists have been warning about - and we urgently need to do something about it.
The world effectively is on fire, or certainly, that's how it feels if you are in Greece at this moment.
Europe is burning - highs of 47 degrees in Sicily described by the Italian media last week as a week of hell, and we're seeing men women and children rushing into the sea sitting in boats, fleeing their hotels, not just in Rhodes but in Corfu.
People are dying from dehydration and confusion; the elderly, those with disabilities those with underlying health conditions - these are people most at risk of course, people who pay the highest price for the destruction of our climate.
READ MORE: 'Deplorable': Minister slams travel companies as raging wildfires leave up to 10,000 Brits stranded in Corfu and Rhodes
Last year according to a report by the United Nations World Meteorological Organisation, 60,000 people died during last year's summer heatwave, but of course, we've been here before.
In early 2019, we were warned about an incoming health catastrophe. Our government had the information at their disposal, and yet they chose to ignore and delay.
The government was fickle, and its failures cost thousands of lives. By the time we acted it was too late - many mothers fathers, grandparents, and siblings died of unavoidable deaths.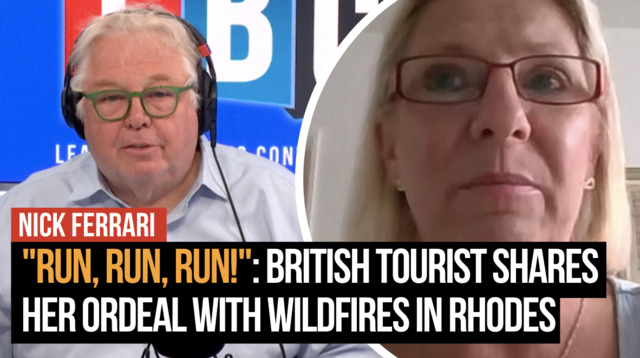 LBC: British tourist fled Rhodes hotel due to wildfires
Of course this is the time when you get the deniers, those who don't want to confront what's happening - we saw a lot of that during the pandemic.
I wasn't surprised to see Jacob Rees-Mogg following the catastrophic by-elections results last week for the Conservatives, warning, 'I think it's really important', he said, 'that we're on the side of the British voters, we stop burdening them with extra charges, extra regulation, extra interference in their lives'.
READ MORE: Corfu evacuation order issued after flights to Rhodes cancelled leaving terrified Brits fleeing raging wildfires
It's extraordinary isn't it? You see British tourists fleeing scenes in Rhodes...it reminds me of the refugees and asylum seekers fleeing the Horn of Africa into Europe because of the conflict that's been driven by climate, because of the scarcity of resources and food that is in part being driven by climate.
We need to urgently do something about it.
The papers were full yesterday of politicians who should know better, saying that we should now back away from the case for cutting carbon emissions.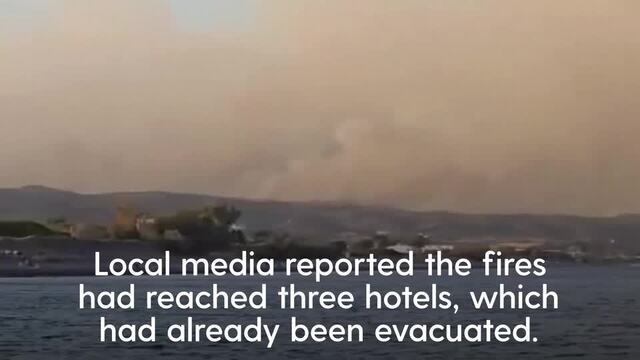 Resorts evacuated as blaze rages out of control on Greek island of Rhodes
We're terrifyingly close to the tipping point that scientists have been warning about.
Does this interruption, the scenes that we're seeing, does it finally tell us it's time to wake up, or should we retreat from what we're doing as a result of some people in Uxbridge deciding that, yes they weren't happy with the way that Sadiq Khan's gone about ULEZ?
No one could believe that it wasn't the right thing to cut pollution levels here in London. There might be a debate about the when and the how, but surely, surely, we aren't still discussing whether it's the right thing to do.
But no. Right across the papers we see Tories lining up to say that the way to fight the next election is to back off what Rees-Mogg decides is super-regulation and burden on the British people.