Witnesses Describes Citizen Arrest After Natural History Museum Crash
7 October 2017, 15:44 | Updated: 7 October 2017, 17:21
Several people have been hurt after being hit by a car outside the Natural History Museum.
Several people have been injured after a car reportedly ploughed into people outside London's
Natural History Museum.
Scotland Yard said that "a number of pedestrians have been injured" in an incident in Exhibition Road in South Kensington shortly after 2.20pm.
A Metropolitan Police spokesman said: "Officers are on scene, and the London Ambulance Service have been called.
"A man has been arrested at the scene."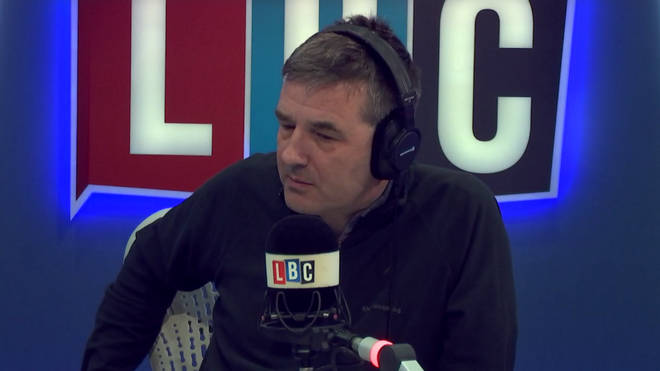 Speaking to Ian Payne on LBC, two eyewitnesses described the scene. Saying there was a crowd of "thousands" and a "really big bang."
Both detailed the man's arrest by four men who were not wearing police uniform.
Katie said: "We were right there when it happened. We walked onto Exhibition Road and heard a really big bang and saw people running.
"People were very confused and people were frightened. It was packed, there were thousands of people on the streets.
"It looks as thought the car had left the pavement and driven into one of the bollards.
"We saw a man being held by civilians. A black guy in blue jeans. He had his arm twisted behind his back and there were four, I assume, pedestrians.
"We saw two people injured. One little boy and then also a lady lying down and people trying to help them.
"Maybe the little boy had broken his leg, the lady wasn't moving."
Graham, a taxi driver, also called Ian, he said: "I saw a black guy pinned down by four other big guys, I assumed they were unmarked police officers.
"He was pinned down, then two fast police cars approached. There was no panic. It didn't seem like a terrorist attack, nobody was running around.
"Members of the public were walking and crossing. I thought maybe a fight or someone was trying to rob someone.
"If someone wanted to drive into the public they could easily do so but I don't think this was the case."
Watch both interviews at the top of this page.