John Kettley: The Cold Weather Comes Back For Easter
19 March 2018, 10:01 | Updated: 19 March 2018, 10:37
"The snow band is now just flirting with the South Coast" says John Kettley, as the Mini Beast from the East heads out. But it's not goodbye to the snow this month.
- Full Seven-Day Weather Forecast for Britain
Legendary weatherman John Kettley says Mini Beast From The East is on its way out, but there's more snow to come.
"Temperatures are gradually creeping up. You may not feel it because you've still got this bitter wind across the south, especially temperatures here will just about make two degrees today.
"Further north it is going higher about four to seven degrees generally speaking, and then through the week temperatures again rising everywhere.
"So we've lost it by the end of today certainly.
"And although they'll be some hard frost at night in places, especially when you've got the snow cover, things are going to get much much better through the week.
"The next one will be coming in from the north so it's more of an arctic incoming ensuring the following week."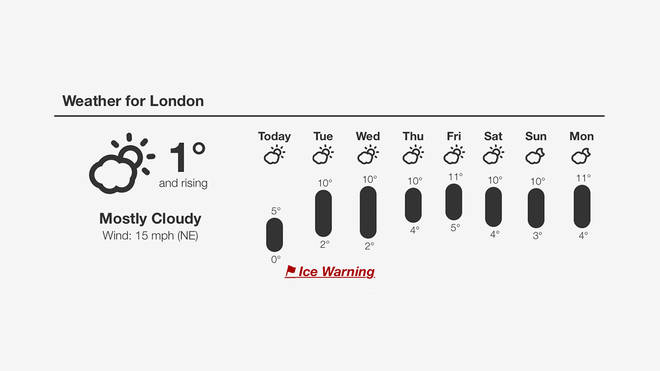 "At the moment it is a very icy morning. It is a morning to watch out for wherever you're traveling.
"Temperatures are down at freezing for most of the country. It's going to be little bit of time before they actually do get up a little bit higher."
But speaking to Nigel Farage on Sunday, Kettley said: "This is not the end of the snow this month. It is a truism that it is more likely to snow on Easter Day than it is Christmas Day. And at the moment the suggestion would be that the cold weather comes back for Easter."
"The beast itself, such as it is this mini beast, that brought these very icy winds and some heavy snowfall especially across the south and east of the country, is on its way out today because the snow band is now just flirting with the South Coast.
"But we got some lovely pictures this morning with snow lying on many of the beaches across southern England. You don't get that very often and I'm sure people living there are very pleased about it.
"It does occur from time to time."