Julian Assange 'Frightened' Of Extradition to America
13 April 2019, 11:32 | Updated: 13 April 2019, 12:52
A friend of Julian Assange said he thought the WikiLeaks founder was "frightened" of being extradited to the United States.
The WikiLeaks founder was arrested at the Ecuadorian embassy, where he has lived since 2012 in an attempt to avoid extradition to Sweden over allegations of sexual assault.
But asked by Matt Frei whether Mr Assange was frightened by the prospect of extradition to America to face charges relating to WikiLeaks' activities, Vaughan Smith said: Yes, frightened isn't a word I'd normally use for somebody who gives up their freedom for what they believe in.
"But yes, he is very concerned of a vengeful US state who will lock him up forever to make an example of him to discourage others."
- Who Is Julian Assange And How Long Has He Been At The Ecuador Embassy?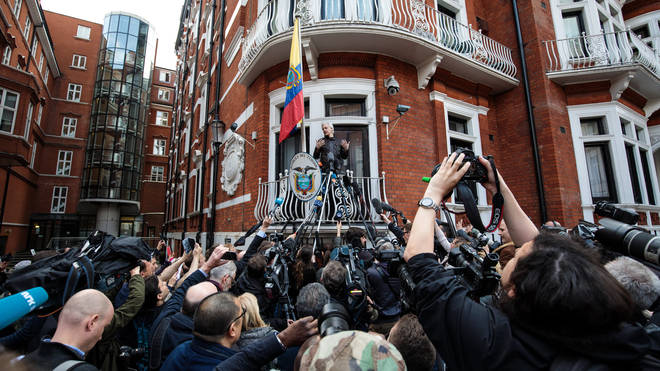 More than 70 MPs and peers have written to Home Secretary Sajid Javid and the shadow Home Secretary Diane Abbott, urging them to focus on the Swedish investigation into sexual assault.
The letter called for Mr Assange to be extradited to Sweden so that the "formal investigation into an allegation of rape can be concluded".
It added that "justice has already been denied" in some parts of the investigation because of Assange's unavailability.
The Crown Prosecution Service has also said that should more than extradition requests are made for the same person, then it would fall to the Home Secretary to decide which one to proceed with.